Is a Sheltie the Right Dog for You?
The Shetland Sheepdog ("Sheltie"), like any other dog breed, does not fit every household. Shelties have many temperament traits, and certain of these are fairly universal to the breed. Shelties were bred and used in the harsh environment of the Scottish Shetland Islands to help shepherds with their sheep. Many of their traits made them perfect for this work. It's important to remember their roots when you think about their temperament.
Shelties do bark. They will let you know when something is not right, when they're happy, when they play, and especially when they have something to say. However, some Shelties do not bark very much.
Shelties are reserved. Some people call this "shy," but most Shelties prefer to get to know someone before getting close to them.
Shelties are extremely loyal to the people they know best.
Shelties are sound sensitive and sound reactive. They are "always on duty."
Shelties may chase (herd) almost anything that moves.
Shelties are very smart and need to have their minds and bodies occupied. Many will invent a "job" if they are not given one. And, you may not like this "job."
Shelties do not like to spend time away from their people. Left alone all day, a Sheltie is usually not very happy.
Shelties are very sensitive to the moods of their people. They need a home where gentleness is the way of life.
Shelties are an active breed and need exercise every day - more than a 10-minute walk around the block.
Shelties have a double coat (rough outer coat and soft undercoat), and they need regular (minimum every two weeks) thorough grooming. "Tumbleweeds" are common in Sheltie homes.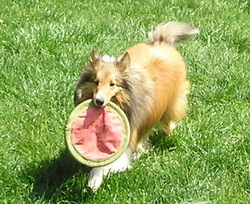 Shelties want to be an integral part of their family. They pay attention to everyone's business and may make comments on their observations. They dislike being left behind and will show their disapproval, often by barking, twirling, and jumping.
Shelties are selective as to who is worthy of their affection and who is to be observed from a distance. They sense human moods and will be happy and sad along with you. They love attention, and they love to learn - Shelties are very easy to train. They excel at dog sports like agility, obedience competition, rally, disc dog, flyball, and herding.
In summary, if you are considering bringing a Sheltie into your home, be prepared to spend a lot of time, energy, and love on this new family member … for that is what they need to thrive. In return they will give you some of the most wonderful moments of your life and memories you will cherish forever.
Learn lots more about Shelties on the website of the American Shetland Sheepdog Association and in Sheltie Talk, by Betty Jo McKinney (new edition 2010).
Return to top
---