_Volunteer with Northern Virginia Sheltie Rescue. Here's how …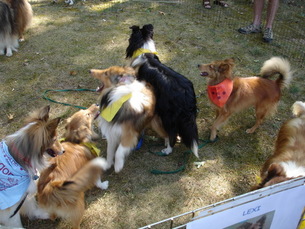 _
Our name may be deceiving as we have almost 100 volunteers located all over the state of Virginia, as well as Maryland, Delaware, West Virginia, and the District of Columbia. As you read our Mission Statement you'll understand how much work and love it takes to rescue and rehome more than 1,300 Shelties since 1999! This would not be possible without our wonderful volunteers. Would you like to help?
There are many volunteer tasks in which you can become involved:
Do you have special writing or graphic design skills? You could help with fliers, newsletters, etc.
Do you have a vehicle and can drive? You can help transport dogs or conduct home visits for potential adopters.
Do you want to have fun? Give your time to our fundraising events, holiday gift wrapping for donations, pet expos. These events give recognition to our breed and rescue group and are lots of fun.
Can you foster a Sheltie in your home? We are always in need Foster Care Providers. We give lots of support to our foster homes, and fostering is the heart of what we do to help our Shelties on their way to new lives.
If want to join our volunteer team, please complete and submit the volunteer application (click here) and our Volunteer Coordinator will be in touch with you. Send your questions, too.
We appreciate your interest in helping Shelties find new homes.
---