Come and visit with our NVSR Shelties and volunteers at one of our events.
Scroll down to the bottom for photos of previous events.
---
---
Keep up with NVSR - Read The Sheltie Spin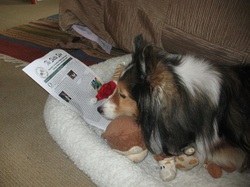 Anneka checks out a recent issue of The Sheltie Spin
---
---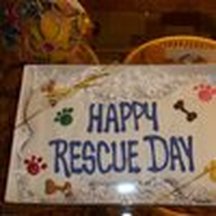 NVSR 2015 Annual Report
Click here to read the Annual Report for 2015.
NVSR continues to be in a good financial position ending 2015, although more dollars are going out than are coming in. We have corrected our stance with CFC, the governmental charity payroll deduction plan. We are once again included on that plan, so those contributions should come back in this year. We have often spent thousands on one dog to bring him or her up to as healthy a condition as possible. One important surgery can cost $4,000 or more. So please continue to help us. We appreciate every dollar we get - all used for the benefit of our Shelties.
---
---
2016 NVSR Picnic! A gorgeous day with gorgeous Shelties, and very enthusiastic humans, too!

September 24th saw sunshine, smiles, beautiful Shelties, and lots of happy folks at our annual picnic. We had 97 dogs (almost all Shelties with a few Sheltie wannabes) and 156 adopters, volunteers, and friends celebrate our 17th year rescuing our favorite dogs. Attendees participated in very tempting silent auction and raffles, bought Sheltie goods including our new 2017 calendar, learned about Sheltie nutrition, care, and teaching tricks, had their photos taken, ate lunch and watermelon, played games, watched agility demonstrations, had dogs microchipped, and - the best part - enjoyed our dogs together. It was a good money-maker for us, too, which pays for a LOT of vet bills for Shelties that need our help. Thank you, everyone! Here is a slideshow of photos of our memorable day together.
---
---