Come and visit with our NVSR Shelties and volunteers at our events.
Scroll down to the bottom for photos of previous events.

Please note ... we changed the date of the picnic to September 23!!

---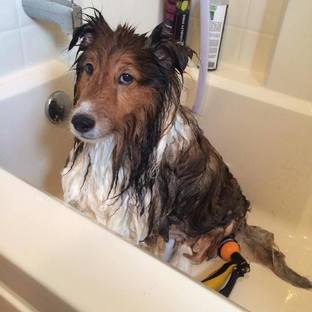 July 17 - August 5: NVSR Dog Wash Days at Weber's Pet Supermarket, Herndon
NVSR volunteers, friends, and adopters in Northern Virginia: it's time to tell neighbors, coworkers, and friends about Weber's dog wash fundraiser to benefit NVSR. For every dog washed during these days, NVSR will get $10. This is a fun way to help NVSR and get a clean dog, too! On August 5, the final day, we'll have volunteers and Shelties at Weber's for Meet & Greet from 11am-3pm. Join the fun!
Here's info about Weber's Pet Supermarket.
---
---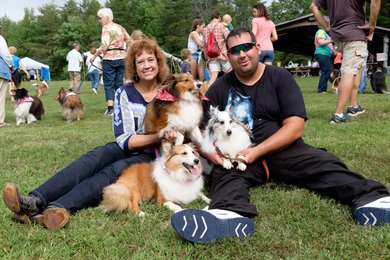 2017 NVSR Annual Picnic: Saturday, September 23, 11:30am - 4pm

The NVSR annual picnic has been scheduled, so mark your calendar for a fun day with lots and lots of Shelties. We'll be at the same place: Curtis Memorial Park in Hartwood VA. And, we'll have lots of fun things to do, demonstrations about things to know about Sheltie care, food, fundraising, and much more. We hope to see YOU there with your Sheltie. (Sheltie wannabes are welcome, of course). Scroll down this page for lots of photos from our 2016 fun-filled picnic.
---
---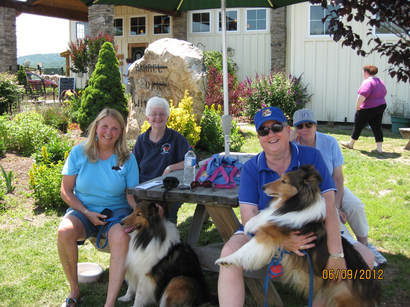 Sunday, October 22, noon to 4pm: Barrel Oak Winery, Delaplane VA.
Join NVSR and friends at Barrel Oak Winery
for their friendly wine-tasting in a pastoral setting. This is a fundraiser, and we will sell wine-tasting coupons by the outdoor pavilion. Those funds are important to help us do what we do for our Shelties.
WHERE: Barrel Oak Winery, 3623 Grove Ln, Delaplane VA 20144, towering over I-66 between exits 27 & 23. More info at
www.barreloak.com
.
We hope to see you there. Bring your Shelties! BOW is a very dog-friendly place.
---
---
Keep up with NVSR - Read The Sheltie Spin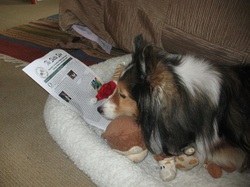 Anneka checks out a recent issue of The Sheltie Spin
---
---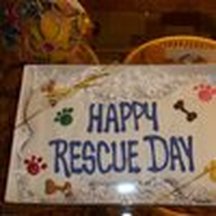 NVSR 2016 Annual Report
Click here to read the Annual Report for 2016.
NVSR continues to be in a good financial position ending 2016, and more dollars are coming in than are going out, which we sincerely appreciate. We are no longer included in CFC, the government payroll contribution plan, because we could not meet their requirements for a brick-and-mortar office. Those contributions have been more than made up via PayPal and monthly sustaining contributions. We have often spend thousands on one dog to bring him or her up to as healthy a condition as possible. One important surgery can cost $4,000 or more. So please continue to help us. We appreciate every dollar we get - all used for the benefit of our Shelties.
---
---
2016 NVSR Picnic! A gorgeous day with gorgeous Shelties, and very enthusiastic humans, too!














September 24th saw sunshine, smiles, beautiful Shelties, and lots of happy folks at our annual picnic. We had 97 dogs (almost all Shelties with a few Sheltie wannabes) and 156 adopters, volunteers, and friends celebrate our 17th year rescuing our favorite dogs. Attendees participated in very tempting silent auction and raffles, bought Sheltie goods including our 2017 calendar, learned about Sheltie nutrition, care, and teaching tricks, had their photos taken, ate lunch and watermelon, played games, watched agility demonstrations, had dogs microchipped, and - the best part - enjoyed our dogs together. It was a good money-maker for us, too, which pays for a LOT of vet bills for Shelties that need our help. Thank you, everyone! Here is a slideshow of photos of our memorable day together.
---
---