The Sheltie Shop!
​Our 2017 NVSR Calendar is full of gorgeous Shelties! Sold out!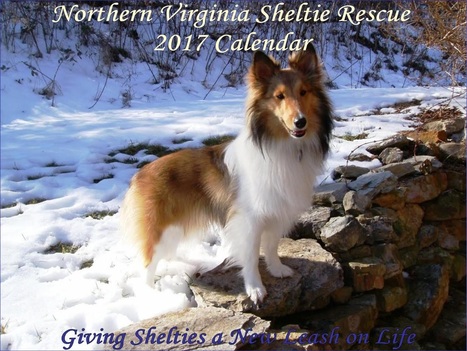 With our annual calendar, you'll enjoy several rescued Shelties every month during 2017. On every page of the calendar are beautiful photos of our adopted dogs enjoying life with their new families, or perhaps waiting for that perfect adopter to come along. The back cover and inside front pages commemorate beloved Shelties who passed away during the last year.

We'll have our newly designed 2018 calendar ready for sales at the time of our picnic - September 16.



---
---
For all the following items, we'll give you a shipping discount for ordering multiple items at once! So, shop for the Shelties! Inquiries go to shop@nvsr.org. We can once again offer custom embroidered items. These are very popular and embroidered on your choice of garment or item with any color Sheltie or even our logo. Just ask.
---
NVSR logo blankets to keep you cozy!


Soft Fleece in many colors adorned with the NVSR logo to celebrate our 15th year of giving Shelties "A New Leash on Life" ($30) plus $5 shipping. Order direct from

NVSR

.

---

---

"Sashi the Sheltie" books!!

We have a few of these delightful children's books left. Written by a Sheltie rescue volunteer, they are perfect for a child you know.

Set of all three, $45 each

Single books are $15 each

Prices include shipping!!

E-mail us to purchase

.

---

Sheltie Sweatshirts


Small to XXL sizes available in 5 exciting colors with 3 embroidered Shelties on each.
Hoodies also available - just ask!

$35 each + $5 shippingE-mail us to purchase or purchase on eBay.

---

New this year! Sheltie Bags for every purposeWe have a tablet bag, a laptop bag, and a nice small duffle (17.5" long). These will go quickly! Great for holiday presents.Tablet and laptop bags are $25 each, and the duffle is $20. $5 shipping for each one. Order directly from NVSR.

---

---

Sheltie Polo Shirts


_ ... in adult sizes S-XXL and 4 bright or 3 new fall colors with your choice of Sheltie coat color.

We also have child-sized polos for the youngsters in your life who share the love of Shelties. Child sizes: S-L

$25 each + $5 shippingE-mail us to purchase

. Or, purchase on

eBay

.

---

---

Youth Sized Embroidered Polo Shirts - $15 each, shipped free!


Pink and blue only, sizes S-M-L with a variety of Sheltie colors - ASK!

---
---