Before you get too excited about one of our Shelties, please read
ALL
the information on our page
How to Adopt.
It will answer your questions about our process and expectations.
E-mail additional questions.
---
Shelties Ready for New Homes

---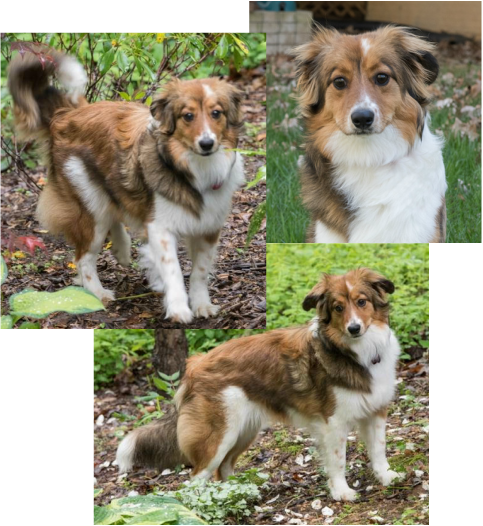 Mia
Cute little Mia is a very sweet, affectionate girl who loves petting and hanging out with her humans. Her favorite activities are following her foster mom around and chasing a ball in the fenced yard. She will often play with the ball by herself, tossing it up in the air and throwing it down a hill so she can chase it.
Click here to watch Mia play.
Mia is reliably housetrained and will bark to signal when she needs to go out. She is a great car traveler and never gets carsick. She also enjoys walks on leash as long as she doesn't encounter other dogs. Mia does not like dogs and doesn't seem to realize she is a dog herself. She especially doesn't like dogs who approach her favorite humans. We know nothing about her history, so she may have had scary experiences with dogs during or before her time in the shelter. Strange humans, on the other hand, seem to be quite acceptable unless encountered unexpectedly on a walk. She charms her vets and the vet techs who work with them. She is definitely a very people-oriented pup. And because she is just a pup, her adopter can work with her to reduce her reactivity to dogs. But dog parks should not be in her future.
We had Mia given a thorough vet exam and discovered that she has cerebellar hypoplasia, a condition that affects her balance and coordination. We also took her to a neurologist who confirmed our vet's diagnosis. But she made clear that the condition does not stop Mia from running around the yard, chasing squirrels, or playing. The neurologist also said the condition will not get worse and that Mia can live a long and happy life. Her symptoms seem to be mild compared to other dogs with C.H. No treatment is needed, but Mia should not be permitted to go up long flights of stairs because she could lose her balance and fall. Similarly, she should not be allowed to jump off beds or other furniture. She seems very aware of her balance problem and doesn't try to do things that challenge it. For instance, she prefers to run on carpet or area rugs and avoids bare floors.
The vet also diagnosed mild luxating patellas or "floating kneecaps." Severe cases of luxating patella often require surgery, but Mia's milder form may respond to supplements like glucosamine chondritin and salmon oil and to moderate exercise to strengthen the muscles around the knee (like walking up and down hills). Mia is otherwise very healthy and will soon be spayed and brought up to date on all tests and vaccinations.
This very appealing youngster is ready to look for her forever home. Because of her need to run and play off leash to keep her legs strong, she must have a fenced yard. Mia also needs to be the only dog. (We haven't tested her with cats, but she probably wouldn't like them any more than she likes dogs.) She needs either a one-level home or one in which gates could be put across any flights of stairs. Because of her love of people, she would be happiest in a home where someone is around much of the time although she has not shown any signs of separation anxiety. For humans who have no interest in agility or other dog sports and just want a very loyal, lively, and loving companion, Mia will fill the bill.
​
Mia is ... 18 inches tall, 25 pounds, and 1 year old. Her adoption fee is $350.
---
---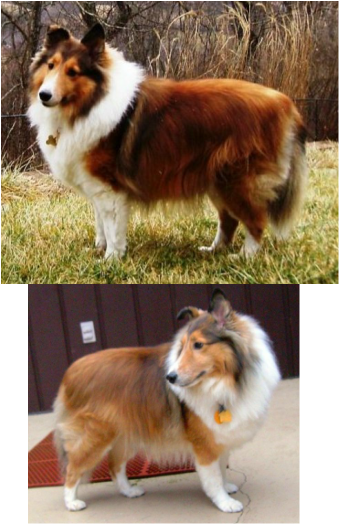 Duncan
Duncan originally came to NVSR in 2011 when a goat farmer, disappointed with their lack of herding skills, left him and his littermate at a shelter. They had lived outdoors for the first three years of their lives, where their only contact with humans was at feeding time. This resulted in two very unsocialized dogs who did not trust humans. After months of rehab and training, NVSR eventually placed both dogs with loving families. But four years later, through no fault of his own and despite having made considerable progress, Duncan is again in foster care. It is imperative that Duncan's next home be permanent.
It is easy to fall in love with this handsome, laid back fellow. On the positive side, Duncan appears to have no aggressive tendencies of any kind. He has excellent house manners, does not destroy items when left alone, never has accidents in the house, and gets along very well with other dogs and cats. He will sometimes sneak up on the sofa, but that's allowed in his foster home. His beautiful, dense sable coat requires dedicated weekly brushing, which, fortunately, he enjoys.
But Duncan is slow to trust, resistant to change (which must be done very gradually), slow to learn new things, and sometimes highly reactive to certain sounds. He is definitely a homebody and does not care for travel; he often gets carsick. He walks nicely on a leash and behaves well in a fenced yard—unless he hears distant gunshots, when he panics or tries to escape from the yard.
Duncan is a work in progress. Because of his insecurity and his fear of loud noises, he must have an escape proof yard and a friendly, confident canine playmate. His adopter must be comfortable with the "two-steps-forward, one-step-back" learning process and not be discouraged by how long it takes him to accept new things.
Duncan is in excellent physical health, and he's lost the excess weight he came in with. He is up to date on all his veterinary needs, and NVSR funded a professional dental cleaning for him. His foster mom has been working with him on tolerating car trips, and he is now able to travel a few miles without getting sick or exhibiting anxious behavior. Duncan's ideal home includes patient, loving humans who are home most of the time and a well-socialized, active canine friend who can serve as role model and exercise buddy. He is not a good match for a family with small children.
Here's a video of Duncan playing.
​
Duncan is ... 17 1/2 inches tall, 25 pounds, and 8 years old. His adoption fee is $250.
---
---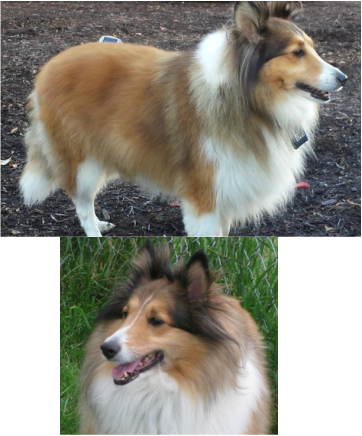 Penny -- Adoption Pending!!
Beautiful Penny is an outgoing, affectionate dog who loves people. Her favorite indoor activities are following her foster mom around, lying at her feet when she's reading, and scampering around with a toy in her mouth. She enjoys brushing, which is fortunate because this girl has a beautifully thick coat that must be thoroughly brushed at least weekly. Penny craves human contact and is a true "Velcro" dog. She never has accidents in the house and is an excellent car traveler.

Penny loves to be outdoors and is very fond of running around a fenced yard. Unfortunately, she seems to feel that cars and trucks need to be herded, and her duty is to round them up. In her initial home, she was seldom walked on leash and spent her time alone in a yard with a limited view of the neighborhood. So, she hasn't yet learned to ignore vehicles and barks at them on leash walks or when she spies them from the front windows or yard. Her foster mom has been working to desensitize her to passing vehicles and teach her to walk calmly on leash. After 10 minutes, Penny usually ignores vehicles. Her adopter will need to continue this training.
​
Penny has had a thorough vet evaluation and received all her vaccinations and tests. Her teeth are beautiful and white. The vet declared her to be in excellent health except for excess weight and slightly higher than normal levels of protein in her urine, often caused by high blood pressure and too much protein in the diet. She placed Penny on a blood pressure medication and recommended a low protein diet for her. Overfed and given too many high protein treats in her former home, Penny put on too many pounds. Now that she is on a strict diet of two high-quality meals a day combined with plenty of exercise, Penny is shedding that excess weight. Her forever family will need to maintain the strict lower-protein diet and exercise to get Penny down to a healthy weight. She needs to lose about 3-4 more pounds. The blood pressure medication may become unnecessary when she loses those extra pounds.

This very pretty, very affectionate girl is looking for her forever home. She needs to be the only pet in a home where she gets plenty of human attention. She can get along with most other dogs, but she has no interest in them. No cats, though (sorry, all you cat lovers). A fenced yard without a view of passing traffic is highly recommended. Penny would be fine with dog-savvy children over 12. What Penny needs most is someone to love her, cuddle her, and be her best friend.

Penny is ... 17 inches tall, 32 pounds, and 8 years old. Her adoption fee is $250.
---
---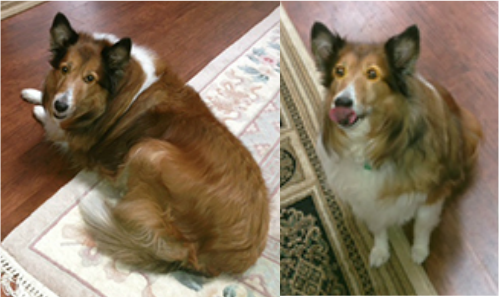 Jenny
Courtesy posting (see below) ...
Watch the video (link below) and picture pretty Jenny out for a walk with you. Jenny loves people and craves affection. She's looking for a home where she can be the center of attention and best buddy with her human companions. Jenny walks well on a leash; with her slight arthritis she can do two daily half-mile walks.
Jenny is reliably housetrained, but she is very curious and needs to be confined in a crate or gated room when her humans are away. Otherwise, when she gets bored, she may get into things that weren't meant for her. Luckily, she is very fond of her crate and doesn't mind spending time there. She is a good car traveler and used to riding in her crate on a car trip.
Up to date on all vaccinations and tests, Jenny has had recent bloodwork, a thyroid test, and a professional dental cleaning. Her vet pronounced her to be in good health except for some extra pounds she still carries. Her foster mom has her on a strict diet and exercise regime, and she has slimmed down considerably. But her adopter will need to continue this regime until she sheds a few more pounds.
The right home for Jenny includes loving humans prepared to lavish lots of attention on her. She needs to be the only pet because she pushes other dogs out of the way in her desire to get any affection that's passed out. She is a very people-oriented dog and has no interest in playing with other dogs. Jenny wants to play only with people.
Jenny is ... 17 inches tall, weighs 39 pounds, and is 10 years old.
Here's a great video of Jenny in her foster home.
This is a courtesy posting to help the New Jersey Sheltie rescue group get the word out about this wonderful Sheltie. If you're interested in Jenny, contact Shetland Sheepdog Placement Services of New Jersey (
njsheltierescue.org
). There is more information about Jenny on their site. She's a great dog and deserves a new home.
---
---
New Arrivals & Shelties "on hold" - The following dogs are not yet ready for placement.
If you ask about these dogs, please be aware that we are not considering adopters for them and may not yet know very much about them.
---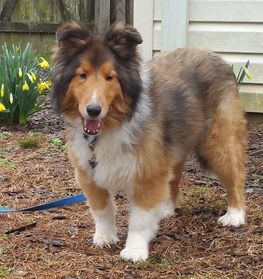 Reese

This nice boy was transferred to us from Collie Rescue after they discovered he's actually a Sheltie. He had been with a humane society for a few months, and he's now relaxing in his foster home where he has canine and feline friends. We are taking care of any medical problems he may have and will soon have his teeth cleaned. He's started thyroid supplementation, and that has made a difference in his energy level. Reese has begun to play, and is asking another dog to join him. That's good news! Watch for updates on this handsome boy.

Reese is ... 15 1/2" tall, 39 pounds, and 7 years old.


---
---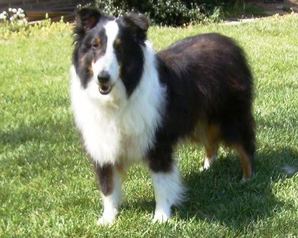 Oreo

This big handsome boy came to us from an owner who had to move and couldn't take him along. He's friendly, loves people, and gets along with other dogs - one of those "easy-keeper" Shelties. Oreo has just had surgery to remove a large benign lipoma, and he needs to recover from that before he can get back to an active life. He also had his teeth cleaned, so he has a bright, white smile. We'll post more about this nice boy as he recovers from his surgery.

​Oreo is ... 20 inches tall, 49 pounds, and 10 years old.
---
---