The last update on this page was 2/21/17.
Disregard the date at the top of this page. We are trying to get the header corrected.
---
Before you get too excited about one of our Shelties, please read
ALL
the information on our page
How to Adopt.
It will answer your questions about our process and expectations.
E-mail additional questions.
---
Shelties Ready for New Homes

---
Ginger

Pretty little Ginger is a true "Velcro" dog, wanting to follow her humans around and always lying near them when they are working or resting. She is not, however, a cuddly lap dog. She does not like to be up on furniture or snuggle in bed. If her foster mom sits on the floor, Ginger will lay her head on foster mom's leg.

Ginger's very favorite thing is chasing a ball or a stuffed animal. She is a relentless "fetcher" and will run up and down stairs to retrieve a ball. Unfortunately, Ginger injured her paw as a puppy and now has arthritis in that paw that limits her fetch-playing to a few minutes at a time. She also loves to be outside, poking around a fenced yard or going for leash walks with her humans. But again, her sore paw dictates that she walk on grass or other soft surfaces only. She quickly begins to limp if forced to walk on asphalt.

To relieve Ginger's distress from too much walking or running, her foster mom is employing a two-pronged strategy, a strategy her adopters must be prepared to continue. Ginger is now receiving Welactin, a glucosamine supplement, and Novox (a generic non-narcotic, non-steroidal anti-inflammatory drug) that we hope will help her arthritis and reduce pain in the affected paw. She is also on a strict diet to help her shed the many excess pounds that greatly exacerbate the pressure on her paw from walking and running. We hope she will one day be able to enjoy her favorite activities with little or no pain.

Ginger has excellent house manners; she never destroys items when given free roam and never has accidents in the house. She does need a fenced yard with a fence she can see through. We had to move her from one foster home to another because her first foster home had a small, very neat

townhouse yard with a privacy fence. Ginger considered the yard a part of the inside and refused to eliminate there. Only when taken to an area with a more open fence (and a view) would she eliminate. She will sometimes eliminate on leash but much prefers to do her business off leash in an area that clearly looks like "outside" to her.

This beautiful little girl has been brought up to date with all vaccinations and tests and is ready to look for her forever home. Because she is very people-oriented and shows little interest in playing with other dogs, we feel Ginger most enjoy being an only dog. Little kids make her nervous, so a family with young children is not a good match. There are no cats in her foster home, but she would probably ignore them as long as they did not usurp her share of her humans' attention. Loving attention—but not lots of hugging—is what this little dog needs.

Ginger is ... 7 years old, 14 inches tall, and weighs 26 pounds. Her adoption fee is $250.
---
Fergus

Do you enjoy teaching your dogs new things like tricks and manners? Do you love to have fun with your dogs? Do you enjoy activities with your dogs, like long walks, dog sports, going places? Fergus enjoys all those things, too, and he's looking for an active home where he can shine and participate in everything. He's not one of those cutesy little Shelties, though. He's a big boy, a fast runner, a smart learner, and a really, really good cuddler. He loves to have his human(s) where he can see and even touch them. He also needs the companionship of another playful, well-adjusted dog about his size. ​

Among Fergus's other "likes" are playing fetch, going places, riding in the car, meeting people, and investigating interesting toys and chewies. Antlers are his favorite, and the toys had better be tough ones or they won't last long. Although he came in to us clumsy and very overweight, he has lost all his extra pounds, and he's at the right weight for him. He has also regained his agility and speed. Fergus will always be a big Sheltie, and keeping him at his ideal weight is important. That's why a large fenced yard is essential for him, along with at least one canine buddy. He needs to run full out many times a day, which is where the "fetch" comes in. He would also be a good student for classes in obedience, tricks, and beginning dog sports.

Fergus is looking for a home with someone around most of the time, one or two other playful dogs his size, and (sorry!) no children. Why no children? Fergus will steal their toys, socks, and shoes and protest strongly if they try to retrieve them. Fergus's housetraining is very reliable, and he is content in a crate for a few hours, particularly if he has his stuffed Kong. He's up to date on all his vaccines and tests and is in the prime of health.

Check out this video of Fergus having fun with his foster buddies. He's the very dark Sheltie.

This handsome fellow is lots of fun, a really nice boy who will make sure that you have fun, too.

Fergus is ... almost 2 years old, 18 inches tall, and weighs 30 pounds. His adoption fee is $350.
---
Pepper

Beautiful Pepper is a tall, slender girl who loves people and enjoys being the center of attention. She walks well on a leash, but she loves running in a big fenced yard off leash. Chasing tennis balls is one of her favorite activities and, along with brisk walks, is a good way to give her the daily exercise she needs. Pepper has excellent house manners. She is reliably housetrained and shows no interest in getting up on the furniture in her foster home. Even though she loves active play outside, she is calm and well-behaved indoors. Like most Shelties, Pepper is a "talker." She will bark when she wants attention from her humans or when anyone comes to the door. Pepper is a little shy with strangers, but if introduced slowly and calmly, she will greet them politely.

Because this pretty girl is a very social, people-oriented dog, she would not be happy in a home where she is left alone for long hours every day. She needs humans around. Her former owner reported that when he left Pepper alone for a long time outside, she would get bored and would sometimes jump his fence if she heard interesting activity in adjacent yards and wanted to join the fun. Pepper gets along with the eight Shelties in her foster home and enjoys running with them in their huge fenced yard. But these dogs are not substitutes for attention from humans.

Pepper has had a thorough veterinary checkup and appropriate tests since she came into NVSR. Her former owner kept her up to date on all vaccinations and had her spayed. Her only minor health issue was a small benign growth on her eyelid that we had removed. In her photos, you can see the tiny area under her eye that was shaved during the surgery prep. The hair will quickly grow back in that area.




Pepper is now looking for her forever home. A good-sized, securely fenced yard is essential for Pepper. She is nervous around very young children who move quickly and squeal in high voices, but she is fine with older kids who know how to interact calmly with dogs. Her foster home has no cats, but we suspect fast-moving felines might trigger her herding instincts. She is happiest in a home where someone is around much of the time and willing to play with her. She would be fine with another dog, but she could probably be quite content as the only dog where she could enjoy all the attention. This lovely dog came into rescue only because her family has been posted overseas and can't take her along. We promised to find her a wonderful new home and we intend to honor the family's requirements for that home.

Pepper is ... 8 years old, 19 1/2 inches tall, and 40 pounds. Her adoption fee is $250.
---
Bridget

​Although Bridget is not a Sheltie, (we think she is a Shepherd mix), her NVSR friends are helping to find her forever home. She is a dog who loves people and making new friends - human or canine. Bridget has a big bark when she sees strangers, but she is only asking them to come pet her! Her foster family says she is very smart, is anxious to please, and enjoys practicing "sit", "wait", "crate", and "heel." She can fetch, too! Bridget loves to learn new things and play games with people. She enjoys playing with another dog her size, but because she can be a little rough when she gets excited, small dogs and cats aren't the right playmates for her. Young children might be afraid of her because she is strong and might knock them down accidentally.

Running around a big fenced yard is one of Bridget's favorite things as long as people are with her. Her foster mom says she is a "velcro dog." But she doesn't have to be playing every minute. She is quiet and will rest at her humans' feet when it's time to settle down. She sleeps in a big crate and is quiet as a mouse all night long. This friendly girl loves to go for rides in the car as well as walks wearing her harness. She never chews anything she is not supposed to, but she loves her Kong Bone, especially with peanut butter stuffed inside.

Bridget has a good appetite but she tends to eat too fast, so she has a special slow-eat bowl so she won't gobble her food. As long as Bridget doesn't have to go too long without a potty break, you can count on her reliable housetraining. She's been brought up to date on all her vaccines and is ready for her new home.

As much as her foster family loves her and she loves them, Bridget wants a person of her own who will be around a lot. Could that be you?

Bridget is ... 5 years old, 40 pounds, and 19 inches tall. Her adoption fee is $250. ​
---
New Arrivals & Shelties "on hold" - The following dogs are not yet ready for placement.
If you ask about these dogs, please be aware that we are not considering adopters for them and may not yet know very much about them.
---

​Chayah

Chayah (pronounced "Ky-ah") is a beautiful little girl who came in suffering with a huge bladder stone. We had that removed right away, and it was as big as a small egg. She also had a dental during her surgery, so her Sheltie smile is nice and white again. She is recovering very nicely, regaining her urinary continence and spunkiness. Chayah has a lovely, people-oriented temperament. Her foster mom is a vet tech, so she's in very good hands during her recovery.

Chayah is ... 7 years old, 11 inches tall, and 14 pounds.
---
---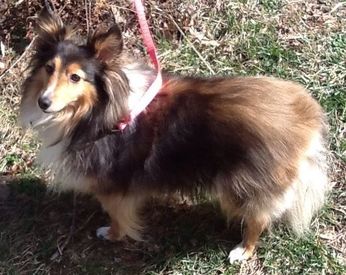 Honey

This little cutie arrived at NVSR from a shelter where she had been surrendered by a sad owner who lost her home and couldn't keep Honey with her. Honey has been with us only a short time, and we're just now getting to know her. So far, we know she enjoys her walks with the other two Shelties in her foster home. We'll post updates about Honey as we learn more about her.

Honey is ... 5 years old, 13 inches tall, and 15 pounds.
---
---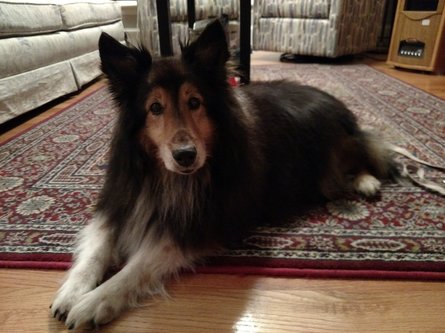 Zappa

Here's a lovely older gentleman who was taken from a hoarder situation and had to wait out court time in a shelter until he could come to NVSR. Zappa is really enjoying his foster home now, with lots of loving attention, even though he's on diet rations to lose his extra pounds. He has a sweet temperament and is in good health. He'll be looking for his forever home as soon as we complete his vetting.

Zappa is ... 12 years old, 17 inches tall, and 39 (!) pounds.
---
---