This page is about the Shelties we have in foster right now - some are available and some are not yet available.
Last update on this page was 4/13/18
---
Before you get too excited about one of our Shelties, please read
ALL
the information on our page
How to Adopt.
It will answer your questions about our process and expectations.
E-mail additional questions.
---
Shelties Ready for New Homes
---
Casey & Max - ADOPTION PENDING!!

Casey and Max are the cutest pups you've ever seen. And they are best buddies. Having been together since birth, these two little guys are closely bonded. They love to chase each other, wrestle, and play tug with any toy they can find. They curl up and sleep together when they finally collapse from exhaustion at the end of the day.

Playing with their foster parents is the only thing these boys find even more fun than hanging out together. They love to jump into foster mom's lap any time she sits down. Taking a quick cuddle with foster dad in his recliner is another opportunity not to be missed. These little boys are definitely people-oriented. They love people of all sizes and all ages. But they also love other dogs. Their foster parents have several adult Shelties who are teaching Casey and Max the ropes. The pups are willing learners and love tagging after the big dogs.

These two pups were turned into a rural shelter that was unable to give NVSR any history about them. However, their former owners did an excellent job of socializing Max and Casey. These pups are confident, smart, and well-adjusted. They are curious about everything and love toys and games of all kinds. Their vet says Casey is a Sheltie mix and Max is likely a mix of terrier and poodle.

We didn't get any vet records on the pups, so NVSR has given the full range of tests and vaccinations. They have also been neutered. Their foster parents are focusing on housetraining, leash training, and basic manners. These boys will be ready for a good obedience course after they adjust to their forever homes.

Because Max and Casey are so closely bonded, we will give preference to adopters willing to adopt both dogs. Right now, if one is out of sight, the other cries. Raising them together will also mean their adopter needn't spend time lining up play dates like most adopters of puppies must do. These boys do a wonderful job of wearing each other out, even without the help of their humans. They must have a good-sized physically fenced yard that has no gaps a small pup can sneak through. They both love to run full out and must have the safety of a securely fenced play area.

These exuberant little guys will bring a huge amount of fun and affection to their forever home. We are accepting applications for them now, but they will not be ready to go to their forever home until early or mid-February.

Here's a video of these boys having fun. Casey is the Sheltie mix, and Max is the terrier mix. Their "stats" are the same ... 9 months old, 12 pounds, and 13 inches tall. The fee for adopting both is $500. We are not ready to consider folks who want only one of the dogs - we want to place them together.
---
​Bailey -- ADOPTED!!

Bailey is simply a fur ball full of fun! She enjoys a lot of attention from her people and is your shadow wherever you go. She plays fetch with stuffed toys and loves - and needs - to run full out. She would love a playmate. She tries to get the older Shelties in her foster home to play but they are not energetic enough for her. She gets along with cats and will play chase with the one in her foster home. Bailey really enjoys her three-times-daily walks, which she needs to get her girly figure back. This is very important, because she is carrying nearly 50% more weight than she should.

Cuddling on the couch with belly rubs after an energetic day is one of Bailey's favorite things. She is a smart girl and seems to have had some training. She knows many commands to different degrees – not all to 100%, but it shows that she does enjoy and retain her training. When she came in to NVSR, she was not reliably housetrained, but she has conquered that by now and can be relied on in the house. She still needs to be watched outdoors, though, to be sure she "goes" and doesn't get distracted. She is still a youngster, after all.

Bailey needs a home where there is lots to do, and we do mean LOTS. She must have a big enough fenced yard to run full out, play fetch, and join the family in all kinds of daily activities. We think she'd enjoy and be a star at dog sports like agility, even if it's practiced in the backyard. She would also enjoy and benefit from an obedience class to freshen her skills. After that, she would love to learn to be a therapy dog. She's friendly and gets along with dogs, cats, and humans. Bailey is a dog you could take anywhere, and she'd love it.

Here are two videos showing Bailey having fun outdoors.
Bailey is ... 14 inches tall, weighs 30 pounds, and is 2 years old. Her adoption fee is $350.
---
New Arrivals & Shelties "on hold" - The following dogs are not yet ready for placement.
If you ask about these dogs, please be aware that we are not yet considering adopters for them and may not know very much about them yet.
---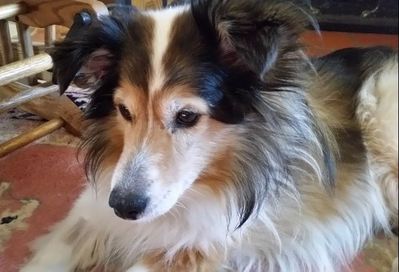 ​Bailey

​Bailey is a very nice female who came to us as a transfer from another Sheltie rescue group. Bailey needed some vet care, which we were happy to provide for her. She had a dental abscess which has been healed, but she still has a limp and ear infections. When she's ready to go, we'll post her complete bio. She's a pretty girl with a lovely temperament, and she gets along well with the resident female Sheltie in her foster home.

Bailey is 9 years old, 13" tall, and weighs 28 pounds.
---
---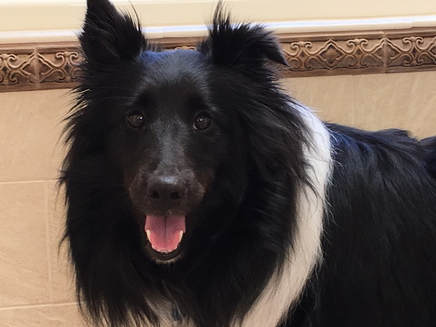 Brandy

Brandy is a beautiful little bi-black with some challenging behavioral problems we are addressing. She spent her young life with one owner who was unable to give her much socialization. She tends to bond quickly with one human but exhibits fear aggression toward anyone else who comes into the house. In her last home, she learned that growling fiercely makes scary things go away. Brandy has no experience with other dogs or cats, but the young Sheltie in her foster home is modeling appropriate behavior. Brandy has no medical problems, but she will not be available until her foster parents have found ways to help her cope with the many things that trigger her fearful behavior.

Brandy is ... 3 years old, 14" tall, and weighs 30 pounds.
---
---