Before you get too excited about one of our Shelties, please read
ALL
the information on our page
How to Adopt.
It will answer your questions about our process and expectations.
E-mail additional questions.
---
Shelties Ready for New Homes

---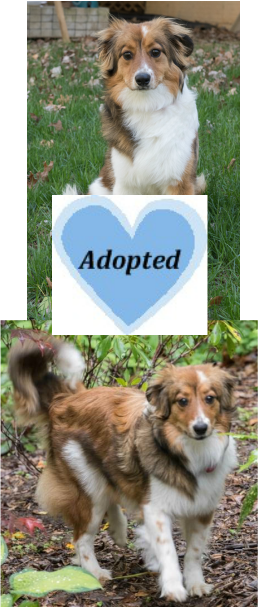 Mia -- ADOPTED!!
Cute little Mia is a very sweet and affectionate youngster that loves petting and hanging out with her humans. She is happiest when she can lie on the sofa next to her foster mom with her head in her lap. Mia is housetrained and will bark to signal when she needs to go out. She is a great car traveler and never gets carsick. This little girl loves to follow her foster mom around and play with squeaky toys.

When Mia first came into NVSR, we noticed her unusual gait and her difficulty maintaining balance on stairs, hills and bare floors. Initial vet visits suggested a mild case of luxating patella (floating knee caps). Mia was able to chase a ball and run full out in her fenced yard. But when she began to limp and was clearly in pain even as she gamely continued her pursuit of her favorite ball, her foster mom became more concerned.

We consulted a neurologist and an orthopedist who used x-rays and an MRI to confirm that Mia has a perfectly normal brain, but her knee problem was much more serious than her vet had guessed. Knowing that Mia could not enjoy a normal life with her painful knee, we funded an expensive operation to repair the bad knee. Mia has recovered very quickly and is able to walk more normally already. Her doctors say she will enjoy a full recovery and will learn to place full weight on the repaired knee in time. We expect Mia to be back to the fetch games she loves very soon.

Because Mia has led a very sheltered life so far, she tends to be a little reactive to strange dogs or strange humans she encounters on walks. But once she became accustomed to the young male Sheltie in her foster home, she was fine with him. And when she spent ten days with another volunteer while her foster parents were on vacation, Mia got along well with the four Shelties in that home. Similarly, once she is introduced to strange humans, she gradually warms to them and goes to them for petting.

This very appealing youngster is now ready to look for her forever home. Once her knee fully recovers, she will want to run and play as she did before her surgery. These activities are important to keep her legs strong. Because of this, we feel it is essential that her forever home have a fenced yard. Right now she does not have the balance needed to manage full flights of stairs; so living on one level is right for her. Because she is very people-oriented and likes to be the center of attention, we feel she would be happiest as the only dog. After she becomes comfortable in her new home, a basic obedience course would give her confidence and improve her dog-dog socialization. For humans who have no interest in agility or other dog sports and just want a very loyal, lively, and loving companion, Mia is a great match.

​Mia is ... 18 months old, 25 pounds, and 18 inches tall. Her adoption fee is $350.
---
---
Fergus

​This fine young fellow with the noble Scottish name is a fun-loving guy who loves the company of other fun-loving dogs. Fergus is a big boy with lots of energy. He is crazy for balls, great at "fetch," and polite if another dog gets the ball first. He also loves other toys, but they'd better be tough ones - he can destroy a soft toy in minutes, but he'll treasure a tough one. He loves a good session of tug o' war, too. He's really good at emptying out the toy basket, but he hasn't yet learned to put the toys back. However, Fergus has several other tricks he loves to demonstrate. "Shake" is down pat, and he's working on "high five."

"Fergie" came to us from a family where he was the only dog, and that didn't work well for him. He needs to be one of a small pack with one or two other dogs about his age. In his foster home, he wants to be right where the action is, and that is always where the dogs and people are. He's affectionate and cuddly, looking for a lap to sit in, especially if that lap is down on the floor at his level.

Fergus is overweight, and his adopter must stick to his diet so he can get down to his ideal weight. He's surprisingly agile now, and he'll be even more so after he loses about eight pounds. Long walks are important for that, and fast runs in a large fenced yard are essential. He also needs a good obedience class and plenty of practice on those lessons. Fergus is smart and attentive, and a class will help polish his manners. For example, he may lunge at other dogs or try to chase a bicycle while out walking, and he needs to learn to accept such stimuli. Fergus has also "gotten away with" some unacceptable habits, like stealing a sock and then starting to eat it, or picking up a tissue or piece of paper and playing "keep away." Consistency and management on the part of his adopter will help Fergus be a good boy all the time - and he does try.

An active home with someone around most of the time is ideal for Fergus, and we'll give such an adopter first consideration. Sorry, no children. He needs the company of one or two other young playful dogs, and he needs consistency to reinforce his manners. His housetraining is absolutely reliable, and he goes into his crate willingly. He's also a very good car traveler in a crate. In summary, Fergus is a very nice youngster who needs a little polishing and some weight loss. Along the way, he'll make sure you have a lot of fun, too.

Fergus is ... 18 months old, 18 inches tall, and weighs 36 pounds. His adoption fee is $350.
---
---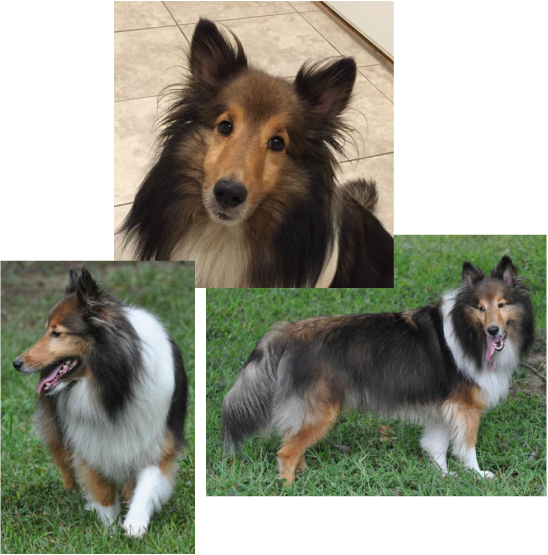 Ace

Ace's foster parents say, "Whoever adopts Ace is getting a great dog!" And they should know, since they have eight Shelties of their own, all certified therapy dogs. Ace loves his foster home, where he can run full out in their very large fenced yard and play to his heart's content with all the resident Shelties. He is a real "snuggle bug," and loves to cuddle with his foster mom on the sofa or nap in foster dad's lap in his favorite recliner.

Ace didn't always have it so good. His former family has two very young children who absorbed all their energy, leaving little time for Ace. The young dog spent most of his time outside with neither dogs nor humans to play with. But his family loved him enough to realize they couldn't give Ace the life he deserved. So they asked NVSR to find him a home where he would get much more attention.

We have brought Ace up to date on all vaccinations and tests. We also funded a professional dental cleaning for Ace, so he now boasts shiny white teeth. His foster parents have worked on improving his leash skills and begun the process of teaching him basic commands. He is now ready to look for his forever home.

Ace needs a home with a large, securely fenced yard because he loves to run full out from one end of the yard to the other. Having enjoyed little attention in his early years, Ace deserves a home where someone is home much of the day. He will not thrive in a home where everyone is off to work or school, leaving him alone for long hours. This is a dog that needs lots of love and attention.

Ace is good with other dogs and would probably love to have an active canine companion in his new home. But he could do well as the only dog if he has humans around to play with him and take him on lots of adventures. Ace is not a good match for a family with young children, but he would likely enjoy older dog-savvy children who could play with him. Like many Shelties, Ace loves to bark. He barks at things that get his attention on TV, at the microwave and some other kitchen noises, and whenever other dogs bark. (He's a Sheltie, after all!)

This handsome boy is a smart, affectionate, and fun-loving dog who would benefit from a good obedience course where he could solidify commands learned in his foster home. That will help Ace become a dog his caregiver would be proud to take anywhere.

Ace is ... 6 years old, 27 pounds, and 16 inches tall. His adoption fee is $250.
---
---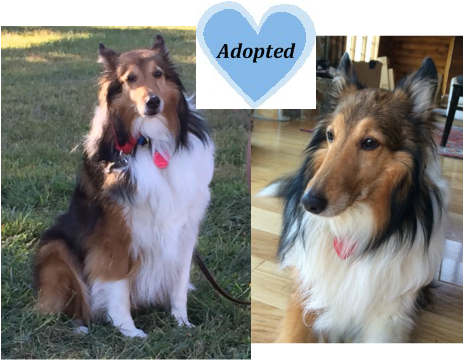 Prince -- ADOPTED!!

Prince is aptly named. He's a real gentleman with impeccable house manners. He likes to keep track of his people and will try to keep them in sight at all times - sounds very "Sheltie," doesn't he? A very good watch dog, Prince will bark when someone comes to the door. He greets strangers nicely, warming up to them gradually.

Prince likes to play with his toys and his Kong, especially when it is stuffed with something tasty. He has a special weakness for the laser pointer, but we hope to redirect him to outdoor activities like chasing balls instead of little lights. He doesn't really need a fenced yard, since he is more interested in getting back into the house after he does his business or at the end of a walk. This will probably change as he settles into his new home where he doesn't have to worry about being left behind.

Prince has had his vetting done and is ready for a new home. He needs one without young children and would really love to have his people be at home as much as possible so he can keep track of them. This is a stately, gentlemanly dog that will bring his "royal presence" to his lucky adoptive home.

Prince is ... 8 years old, 33 pounds, and 19 inches tall. His adoption fee is $250.
---
---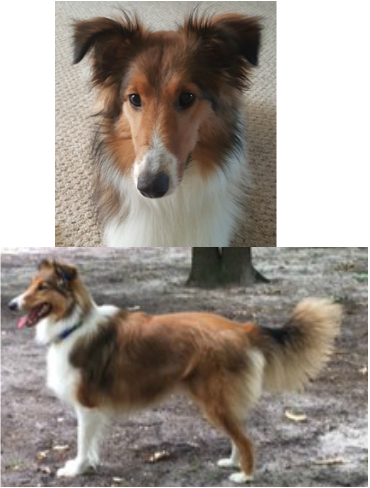 Coco - Courtesy Posting
Note: Coco is not with NVSR, and we are courtesy posting her for our New Jersey Sheltie Rescue friends. To inquire further,, go to their website:
njsheltierescue.org
.
COCO IS LOOKING FOR A VERY ACTIVE OR PERFORMANCE HOME WITH A LARGE FENCED YARD.
Coco is a very intelligent one year old sable and white female Sheltie. She is very active, loves to work, rides nicely in a car, and is great on leash. She takes correction well, knows basic commands, and has an off switch. She is good with other dogs and loves to run and play with them - loves to play with toys, too. She is up to date on shots, house- and crate-trained.
Coco will be happiest in a very active performance home. With the proper training the sky is the limit... She can be trained in agility, obedience, rally, herding, lure coursing - perhaps ALL of those! She has a high prey drive and will chase anything that moves. Therefore, she will not be placed in a home with small animals or young children. Also, no cats (sorry!).

This smart, energetic, active youngster is looking for the right home where she can realize all her potential. She's a very affectionate, fun Sheltie.

To inquire further about Coco, please go to the website site of the Shetland Sheepdog Placement Services of New Jersey: njsheltierescue.org.
---
---
New Arrivals & Shelties "on hold" - The following dogs are not yet ready for placement.
If you ask about these dogs, please be aware that we are not considering adopters for them and may not yet know very much about them.
---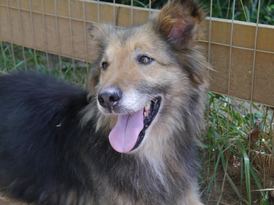 Bridget

OK, we realize there is only a bit of Sheltie in Bridget, but she needed us, and we couldn't say no. She was left at a shelter after spending all her life in a backyard pen with three other dogs, so she is finally learning how to be someone's pet. She's enthusiastic about that - she's affectionate and cuddly and willing to try anything if people are involved. She came to us heartworm positive, and she's 2/3 of the way through her treatment, which involves limited activity for about four more weeks. That won't be easy for her, but it's necessary for her to be healthy again. Meanwhile, we're getting to know Bridget, enjoying her energy, and will look soon for the perfect home for her.
​
Bridget is ... 5 years old, 33 pounds, and 19 inches tall.
---
---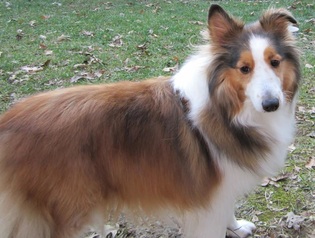 Misty

Pretty little Misty has just arrived, and she needs some vet care before we can make her available. She's a sweet dog, getting along with the other dogs in her foster home and looking for someone to pet and cuddle her. We'll be considering a home for Misty in a few weeks, and when she's available, we'll provide a complete bio detailing her and her ideal home.

Misty is ... 9 years old, 24 pounds, and 14.5 inches tall.
---
---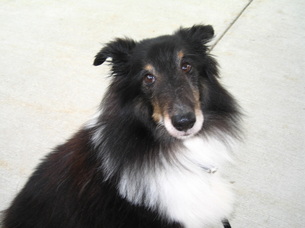 Harley

Handsome Harley has just come back to NVSR from his very sad adopter who has medical problems and can no longer care for Harley. This very much-loved boy is people-oriented, calm, well-trained, and a wonderful companion. We'll be looking for a new home for him soon after he has a wellness check-up.

Harley is ... about 9-10 years old, 25 pounds, and 16 inches tall.
---
---