The last update on this page was 6/25/17.​ Disregard the date at the top of this page.
---
Before you get too excited about one of our Shelties, please read
ALL
the information on our page
How to Adopt.
It will answer your questions about our process and expectations.
E-mail additional questions.
---
Shelties Ready for New Homes

---
Hannah

​Looking for a real cuddle bug? Sweet little Hannah might be just the girl for you. This little Sheltie mix loves to be held, hugged, and cuddled. She also loves to be brushed and fussed over and get plenty of tummy rubs and head rubs. She will follow you from room to room and, if you leave for even a few minutes, her whole body wiggles with pleasure when you return.

Hannah's foster parents have worked hard to housetrain, leash train, and crate train this youngster. Having lived all her puppyhood outside, Hannah is really enjoying the life of a house dog. Although she has not yet had a formal obedience course, she is very smart and anxious to please. She comes immediately when called and will hurry to her crate when you ask her to. Her foster parents have started teaching her basic commands and are impressed with her eagerness to learn.

This young pup loves to take walks around the neighborhood and meet new human friends. She is used to living with cats, but we're not sure she'd be good with children. We're still evaluating that aspect of her temperament. She is a bit apprehensive with other dogs, perhaps because she was bullied by some larger male dogs in her previous home. She also has a hard time sharing her humans' attention with other dogs, showing a little jealousy if they bestow too much affection on another dog. She is a good traveler and thoroughly enjoyed a five-day camping trip with her foster family that she just completed.

NVSR was asked to find loving new homes for Hannah and her brother because her family is moving to a new home where HOA rules do not permit the family's many dogs and cats. We

had Hannah spayed, thoroughly tested for all parasites and tick-borne diseases, and brought up to date on all vaccines. Now benefiting from a much higher quality diet, Hannah's coat is beginning to show the effects of better nutrition.

Sweet Hannah is now ready to look for her forever home. Because she is a very people-oriented dog, a home suits her best where someone is around much of the time and would include her in their activities. Small and easy to pick up, Hannah can be taken almost anywhere. She enjoys getting all the attention from her humans, so she would probably prefer being the only dog. Her calm, friendly temperament suggests she would also do well as a therapy dog with a little training. Snuggling with patients in hospitals or nursing homes would suit her well.

Hannah is ... 2 years old, 13 inches tall, and weighs 18 pounds. Her adoption fee is $350.
---
Pepper ​

Beautiful Pepper is a tall, slender girl who loves people and enjoys being the center of attention. She walks well on a leash, and even more, she loves running in a big fenced yard off leash. Chasing tennis balls is one of her favorite activities and, along with brisk walks, is a good way to give her daily exercise.
Pepper has excellent house manners. She is reliably house trained and does not destroy anything when given free roam inside. Even though she loves active play outside, she is calm and well-behaved when in the house. Like most Shelties, Pepper is a "talker." She will bark when she wants attention from her humans or when anyone comes to the door, but she is not an excessive barker. Pepper is a little reserved with

strangers, but if introduced slowly and calmly, she will greet them politely. With her own humans, Pepper is very affectionate.

Because this pretty girl is a very social, people-oriented dog, she would not be happy in a home where she is left alone for long hours every day. She needs humans around. Pepper gets along with the eight Shelties in her foster home and enjoys running with them in their huge fenced yard. But these dogs are not substitutes for the human attention Pepper needs.

Here is a short video to show how lively Pepper is.

Pepper has had a thorough veterinary checkup and appropriate tests since she came into NVSR. She was kept up to date on all vaccinations by her former owner and was spayed a few years ago. Pepper is now ready to look for her forever home. A good-sized fenced yard is essential for Pepper. She is nervous around very young children who move quickly and squeal in high voices, but she is fine with older kids who know how to interact calmly with dogs. Her foster home has no cats, but we are sure that felines will trigger her herding and barking instincts, so no cats (sorry). She will be happiest in a home where someone is around much of the time and willing to play with her. She would be fine with another dog, but she could probably be quite content as the only dog where she could enjoy all the attention. This lovely dog came into rescue only because her family is being posted overseas and can't take her along. We promised to find her the wonderful new home she deserves.

Pepper is ... 8 years old, 19 1/2 inches tall, and weighs 40 pounds. Her adoption fee is $250.
---
Honey -- ADOPTED!!

Honey may look like an adorable little lapdog. But this girl loves action. She is definitely not the kind of dog that is content to sleep at home all day while her humans are away at work for long hours. Honey thrives on lots of attention. She loves long walks, never tiring in the company of bigger Shelties and long-legged humans. Her favorite game is "Chase me!" and she becomes very excited when a human or a dog shows any willingness to chase her—or be chased by her. Much to Honey's disappointment, her two canine foster sisters are not interested in this chase game in spite of Honey's persistent invitations to play.



---

This diminutive girl is housetrained, but she must be shown where the acceptable potty places are and praised when she does her business. She is leash trained, but she will pull a bit when she gets excited about seeing an interesting dog or human on a walk. Honey loves children, especially ones who are old enough (over 7) to play with her and give her lots of attention. She's not very fond of brushing, but she tolerates it. This well-mannered little girl doesn't get up on furniture in her foster home and has not destroyed anything when given free roam. Although she loves to go to new places and meet new people, she is not a good car traveler; she drools and may get sick on long car trips. ​
​
Honey has been spayed and brought up to date on all tests and vaccinations. So she's ready to look for her forever home. She will be happiest in a home where there is lots of activity and plenty to keep her busy. She especially needs long walks to keep her in shape and allow her to see and sniff new things. And she needs humans who are willing to play with her and cuddle her. She wants to have a canine playmate that isn't too big and who enjoys playing chase. Honey is a confident little dog that can be pushy with other dogs at times, so a canine friend that is relatively laid-back is the best match. But if she gets plenty of human attention, she might be happy as an only dog. Affectionate and playful, this little dog is like having a puppy that has outgrown all the more troublesome traits of puppyhood.

​Honey is ... 5 years old, 13 inches tall, and 15 pounds. Her adoption fee is $250.
---
New Arrivals & Shelties "on hold" - The following dogs are not yet ready for placement.
If you ask about these dogs, please be aware that we are not considering adopters for them and may not yet know very much about them.
---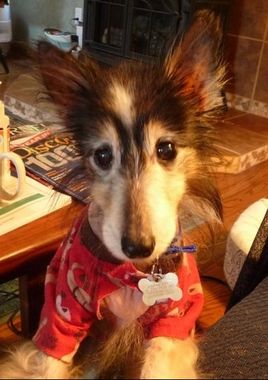 Fluffy

Yes, this little waif is mis-named, but we have hope that before too long she'll live up to her name. Fluffy came to us as a stray from a shelter, and she has a lot of medical issues we will work on right away. She has almost no coat, due to low thyroid, as well as a yeast infection, arthritis, long toenails, infected ears, and a very sore mouth with teeth in need of care. She's in good hands with us, and we'll tackle her medical needs with the help of our vet team. Fluffy has a sweet temperament, just wanting comfort and love.
Update: Fluffy is emerging as a playful, though not too energetic, little love. She's on thyroid supplement and pain meds, so she feels better and her foster mom can clean out her ears now. The yeast infection is diminishing after several medicated baths. Here is Fluffy in her toddler t-shirt to cover up her bare skin. What a cutie!

Fluffy is ... 12-13 years old, 13 inches tall, and weighs 13 pounds.
---
---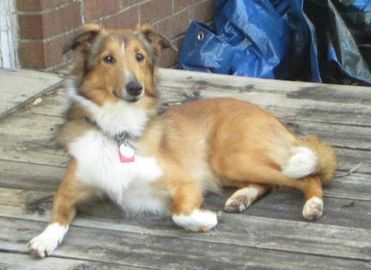 ​Archie

This little fellow came to NVSR via a sister Sheltie rescue. Archie needed a calm environment where he could relax and develop some confidence after having lived in a car with several other Shelties and his owner all his young life. He's thin, and his loving foster family will put some weight on him and help him learn to trust. He needs all the basics: housetraining, crate training, walking on a leash, etc. He's already on his way, and he's finding living in a house with a yard is a real treat.

Archie is ... 2 years old, 16 inches tall, and weighs 17 pounds.
---
---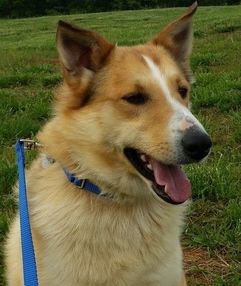 Kendall

Kendall came to NVSR from a family moving to a place where they can't take all their dogs. This Sheltie mix had been living outdoors all his young life, so his foster experience will include all the basics: housetraining, leash training and general house manners. He has been neutered, so after he gets his basic training diploma, he'll be ready to look for a new home.

Kendall is 2 years old, 17 inches tall, and weighs 40 pounds.
---
---

​Chayah

Chayah (pronounced "Ky-ah") is a beautiful little girl who came in suffering with a huge bladder stone. We had that surgically removed right away. She also had a dental during her surgery, so her Sheltie smile is nice and white again. She is very slowly regaining her urinary continence and spunkiness. It's taking some time to get her to be reliably continent, because she had bladder infections for so long. We're still working on this but making only slow progress. Chayah has a lovely, people-oriented temperament. Her foster mom is a vet tech, so she's in very good hands during her recovery.

Chayah is ... 7 years old, 11 inches tall, and 14 pounds.
---
---