Before you get too excited about one of our Shelties, please read
ALL
the information on our page
How to Adopt.
It will answer your questions about our process and expectations.
E-mail additional questions.
---
Shelties Ready for New Homes

---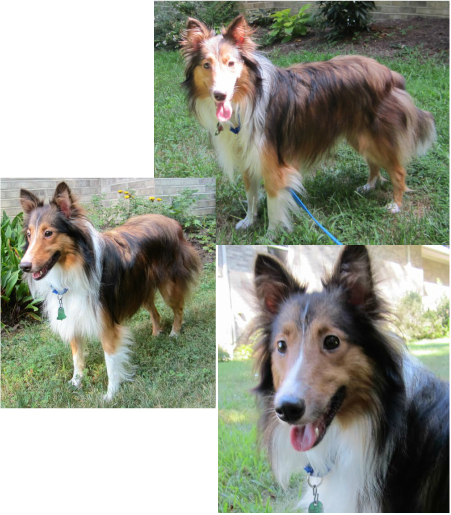 Tia

Tia is a friendly, confident girl who has led a rather sheltered life so far. She loves people and bonds easily with both men and women. Like most young Shelties, she wants to play, preferably with a human. But she likes other dogs, too, and will happily play with them if no humans are available. Her favorite game is "tug," accompanied by much playful growling. A good game of fetch or Frisbee is high on her list, too. She likes all kinds of toys as long as there is a dog or a human to join her in playing with them.

Very reliably housetrained, Tia never has accidents in the house. Before she came into NVSR, however, she had no obedience training and no experience with a leash. In her previous home, she was simply let out into a fenced yard and never taken for leash walks. In her foster home, she is gradually learning leash skills and has come to understand that the leash opens up new horizons. With several short practice sessions each day, she is learning that no forward movement occurs unless the leash is loose. But she is easily distracted by squirrels, passing cars, etc. and will suddenly pull very hard. Her handler needs good arm strength until Tia masters the art of leash walking.
​
Tia is learning to come when called, to sit for her meals, and to get off the sofa when told. She's also beginning to understand that she gets no attention when she jumps up on people. Her forever home will need to continue working on her training on a daily basis. She is anxious to please and will respond very well to a good obedience course based on positive training methods. Until she has such training, however, she is not a good match for a home with frail elderly folks or young toddlers. She was relinquished initially because a member of the household with serious war injuries kept tripping over her.

Very protective of her property, Tia will bark loudly if a stranger approaches. Once approved by her humans, however, the strangers will be welcomed warmly. She is not an excessive barker, but her deep bark suggests a much larger dog than she is. She is not be suitable for adopters living in apartments or townhouses or for those who are away from home for many hours every day.

Tia is very much a diamond in the rough. Because her previous family loved her and gave her lots of attention and affection, she has a loving, happy disposition and exhibits absolutely no aggression. Her confidence and desire to please make her very amenable to training. She is a good candidate for any kind of dog sports and, when a little older, could become a great therapy dog. But she is a strong, energetic girl who will make a wonderful companion only if she learns the impulse control that comes with a good training regimen.

Tia is spayed and has been brought up to date on all tests and vaccinations and is now ready to look for her forever home. She will be placed only with adopters who have a fenced yard and will agree to enroll Tia in a good obedience course and practice her training at home.

Tia is …17 inches (at the shoulder), weighs 31 pounds and is 18 months old. Her adoption fee is $350.
---
---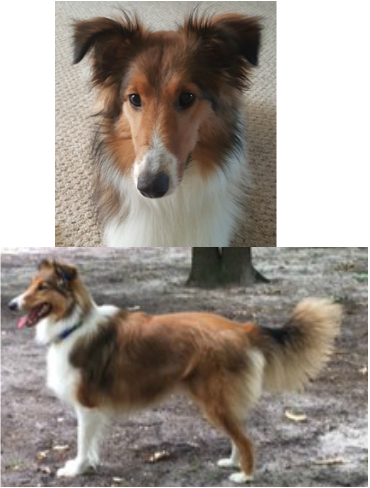 Coco - Courtesy Posting
Note: Coco is not with NVSR, and we are courtesy posting her for our New Jersey Sheltie Rescue friends. To inquire further,, go to their website:
njsheltierescue.org
.
COCO IS LOOKING FOR A VERY ACTIVE OR PERFORMANCE HOME WITH A LARGE FENCED YARD.
Coco is a very intelligent one year old sable and white female Sheltie. She is very active, loves to work, rides nicely in a car, and is great on leash. She takes correction well, knows basic commands, and has an off switch. She is good with other dogs and loves to run and play with them - loves to play with toys, too. She is up to date on shots, house- and crate-trained.
Coco will be happiest in a very active performance home. With the proper training the sky is the limit... She can be trained in agility, obedience, rally, herding, lure coursing - perhaps ALL of those! She has a high prey drive and will chase anything that moves. Therefore, she will not be placed in a home with small animals or young children.

This smart, energetic, active youngster is looking for the right home where she can realize all her potential. She's a very affectionate, fun Sheltie.

To inquire further about Coco, please go to the website site of the Shetland Sheepdog Placement Services of New Jersey: njsheltierescue.org.
---
---
New Arrivals & Shelties "on hold" - The following dogs are not yet ready for placement.
If you ask about these dogs, please be aware that we are not considering adopters for them and may not yet know very much about them.
---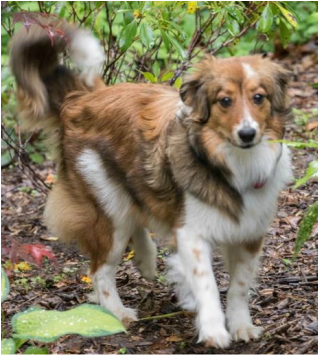 Mia -- Update!
When little Mia began to limp badly and show more pain when playing the ball games she loves, we had her re-evaluated. This time we took her to two specialists who did x-rays of her legs and hips and a scan of her brain. We were surprised to learn that the initial diagnosis (without a scan) by her vets was not correct. The brain scan showed a perfectly normal brain with no evidence of the neurological condition assumed to affect her balance and coordination. But her floating kneecap issues are more serious than we were previously told. In spite of the large expense, we had surgery performed (7/20) on her left knee to give this youngster a good chance at normal walking and running. According to the surgeon, her right kneecap is stable enough, so only this one surgery was required. Her recovery will take a few weeks, but she has no limitations on her movement already. She will be walked regularly to help that repaired knee heal normally. So, Mia is not available for adoption right now. We will provide updates on her progress, and we're hoping for the best. She's a sweetie!

​We sincerely thank all the generous folks who helped us make life much better for this sweet dog.

​Mia is ... 18 inches tall, 25 pounds, and 1 year old.
---
---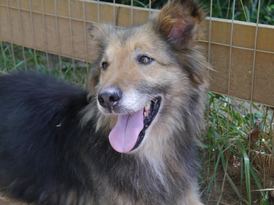 Bridget

OK, we realize there is only a bit of Sheltie in Bridget, but she needed us, and we couldn't say no. She was left at a shelter after spending all her life in a backyard pen with three other dogs, so she is learning how to be someone's pet. She's enthusiastic about that, though - she's affectionate and cuddly. She came to us heartworm positive, and she's already started her treatment, which involves limited activity for two more months. That won't be easy for her, but it's necessary for her to be healthy again. Meanwhile, we'll get to know Bridget, start her training, and find the perfect home for her. We'll update this bio, so watch for more information.
​
Bridget is ... 19 inches tall, 33 pounds, and 5 years old.
---
---