Before you get too excited about one of our Shelties, please read
ALL
the information on our page
How to Adopt.
It will answer your questions about our process and expectations.
E-mail additional questions.
---
Shelties Ready for New Homes

---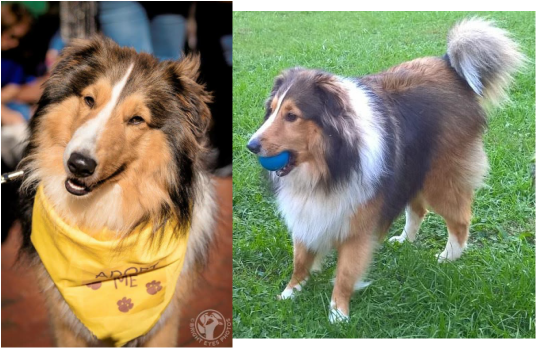 Fergus

​This fine young fellow with the noble Scottish name is a fun-loving guy who seeks the company of fun-loving people and dogs. Fergus is a big, friendly boy who is always a "hit" at our events (here he is at a recent event), going up to meet every human and dog in sight. He loves balls and is great at "fetch." He also loves tough toys - those are the ones he treasures. He's always ready for a good tug o' war, too. Fergus knows several tricks he loves to demonstrate. "Shake" (either paw!) is a favorite, and he's working on "high five." It may sound like he's full of energy, but he also knows how to relax, and he's really good at it. He's affectionate and cuddly, looking for a lap to sit in, especially if that lap is down on the floor.

"Fergie" came to us from a family where he was the only dog, and that didn't work well for him. He needs a home with one or two other playful dogs about his age and size. In his foster home, he is always where the dogs and people are.

Fergus is a few pounds overweight, needing to lose about four more pounds. Long walks and fast runs in a large fenced yard are important for him. This is where the ball-playing comes in! Because he's smart and attentive, Fergus would shine in an obedience class, and he loves to practice his skills.

An active home with someone around most of the time is ideal for Fergus, but no children or cats. His housetraining is absolutely reliable, and he goes into his crate willingly. He's also a quiet car traveler. Fergus is a really nice youngster who needs just a little polishing and some weight loss. Along the way, he'll make sure you have a lot of fun, too. Look at that cute smile!

Fergus is ... 20 months old, 18 inches tall, and weighs 33 pounds. His adoption fee is $350.
---
---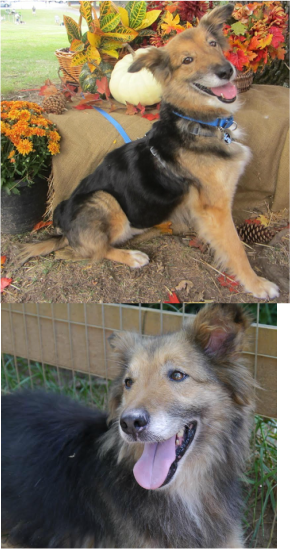 Bridget
​Bridget is a Sheltie wannabe that we think may have some Shepherd ancestors. She is an energetic, enthusiastic girl who is always up for new adventures. Bridget loves to cuddle with her caregivers and seems anxious to please. She's always ready to go for a ride in the car or a walk in the park. Bridget loves toys of all kinds, particularly sturdy stuffed animals with squeakers. Perhaps most of all, Bridget LOVES to eat. That makes a stuffed Kong her absolute favorite toy. Fortunately she is on the thin side, so extra nutritious snacks are not only welcome but also good for her. Her foster parents feed her meals in a "slow bowl," one of the new dog bowls designed to keep dogs from gobbling their food.
Bridget was dumped at a shelter that determined she had a heartworm infection. Lacking the resources to treat this very expensive condition but reluctant to euthanize such an affectionate, friendly young girl, the shelter called NVSR to see if we would take her in. Although we usually accept only Shelties and Sheltie mixes, we agreed to take Bridget because she clearly needed us. She was not housetrained, leash trained, or crate trained when she came to us, so her foster parents had a lot of training to do.
Bridget has now been in foster care for three months while she went through the long, intensive protocol that heartworm treatment requires. During that time, the vet ordered very restricted activity for this lively dog; she could enjoy only leash walks with no freedom to run or jump. She has now successfully completed her treatment and is finally free to run and play to her heart's content. She has been given a clean bill of health with no apparent aftereffects of the infection. And her foster parents have housetrained and leash trained her. She quickly learned to love her crate because it often contained little treats meant to put more meat on her thin frame.
This friendly, playful girl is now ready to look for her forever home. She needs a large, securely fenced yard where she can run full out. She would love to have an active canine companion to play chase with. Such a companion should be Bridget's size or larger because she can be a bit clumsy and rough when she plays. She exhibits a strong prey drive, so no cats or other small fast-moving animals should share her home. Even though she is very loving and affectionate, a family with small children are not a good match. What Bridget needs most at this point are patient, caring humans who will enroll her in a good obedience class. Her foster parents, who have four dogs of their own and have fostered a great many others, say that Bridget is very smart and will likely be the star of the class. Such a class will make Bridget a very welcome companion and help to keep her safe. Click here for a cute video of Bridget enjoying her squeaky toy.
​
Bridget is ... 5 years old, 37 pounds, and 19 inches tall. Her adoption fee is $250.
---
---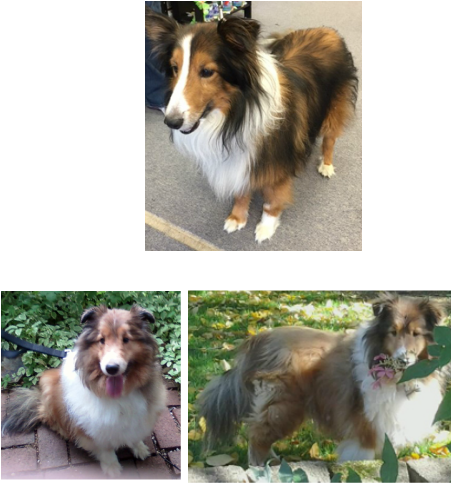 Courtesy Postings for NJ Sheltie RescueNote: These dogs are not with NVSR, and we are posting them for our New Jersey Sheltie Rescue friends. To inquire about them, go to their website: njsheltierescue.org. They will consider applications from our area for these dogs, so mention that you saw them on the NVSR website.
Sam I Am. If you are looking for a Sheltie friend, look no further than our boy Sam. He was dropped off at a shelter, and from there came to our rescue. Sam is about 9 years old and weighs 25 pounds, with a friendly personality. He is housetrained and crate trained. When he arrived at our rescue, Sam tested positive for Lyme, coccidia and had a urinary tract infection. He has been successfully treated for those. He also had surgery to repair a peri-anal hernia, and he is now ready to go to his new home. His diet includes a small amount of daily fiber (pure canned pumpkin is great) added to his kibble. Sam requires a physically fenced yard and no cats because he has a strong herding drive. At his forever home, he must be the only pet.

Blaze is a 9 year old, medium-sized, sable and white boy. He was given up to SSPSNJ because the owners moved away and could not take him with them. He has a strong herding drive, so no small dogs, cats, or other small animals. It's best for him to be the only dog in his new home. Blaze was 47 pounds (!) when he first came into rescue. He is on a strict diet now, and he has lost a lot of his excess weight. Blaze must have a fenced yard, but he also walks nicely on a leash and needs a strict walking regimen to keep his weight down. He is housetrained, crate trained, and up to date on his shots.
To inquire about these dogs, please go to the website of the Shetland Sheepdog Placement Services of New Jersey: njsheltierescue.org. Be sure to mention that you saw them on the NVSR website.
---
---
New Arrivals & Shelties "on hold" - The following dogs are not yet ready for placement.
If you ask about these dogs, please be aware that we are not considering adopters for them and may not yet know very much about them.
---
At the present time, all our foster dogs are available for placement. No "new arrivals."
---