This page is about the Shelties we have in foster right now - some are available and some are not yet available.
Last update on this page was 8/17/17
---
Before you get too excited about one of our Shelties, please read
ALL
the information on our page
How to Adopt.
It will answer your questions about our process and expectations.
E-mail additional questions.
---
Shelties Ready for New Homes

---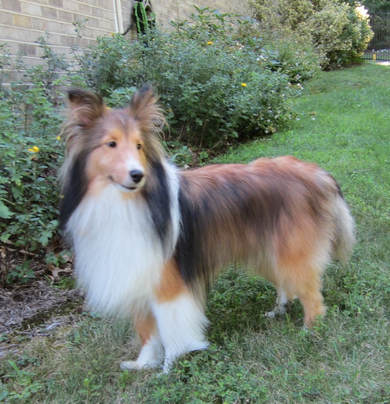 Winston -- ADOPTED and off to new adventures!!

Thinking about getting a Sheltie puppy but don't want to go through all the troublesome traits of puppyhood? With Winston in the family, you would enjoy all the fun aspects of having a puppy without worrying about housetraining, leash training, or chewed up shoes and furniture.

Winston LOVES to play, especially playing chase with another young energetic dog. With his speed and ability to jump and turn on a dime, little Winston would make a wonderful agility dog. He also loves to learn and is very attentive to his humans. Full of curiosity, he's willing to try any new activity those humans suggest.

Winston's foster mom, who has fostered dozens of Shelties and has four of her own, notes, "I've never seen a Sheltie with a better temperament than Winston. He is very affectionate and loves to be cuddled, but he also thrives on lots of activity. He loves people of all ages and makes friends with them quickly. He also loves other dogs and cats—probably any animal willing to play with him."

Although he has not yet had any formal training classes, Winston knows several commands and is surprisingly obedient. He'd be the "star" of an obedience class, and he'd love it. He is reliably housetrained and walks very well on a leash. He has been neutered and is up to date on all vaccines and tests. This little pup is allowed free roam during the day in his foster home and sleeps in his crate at night. He has excellent house manners and does not get up on furniture or destroy items around the house.

This extremely well-socialized pup is not a typical rescue. His puppyhood was spent with a loving family in which the mom home-schooled the children and there were always family members around to play with and love him. But when the children went off to school and the mom accepted a job outside the home, poor little Winston was left alone for long hours every day. He was lonely and depressed. The family knew this life was wrong for such a gregarious little dog. After much soul-searching and vain attempts to change their schedules, they made the painful decision to ask NVSR to find Winston the kind of home he needs.

Winston needs a home with plenty of action. He must have a good-sized fenced yard where he can run full out. He also needs an active young dog who will play with him. He loves children of all ages, so he would make a great family dog--as long as someone is home most of the time. HE WILL NOT BE PLACED IN A HOME WHERE EVERYONE IS AWAY FOR LONG HOURS EVERY DAY. His loving family did not relinquish this wonderful little dog so he could go to the same situation he came from.

Winston is ... 13 inches tall, weighs 12.5 pounds, and is 2 years old. His adoption fee is $350.
---
---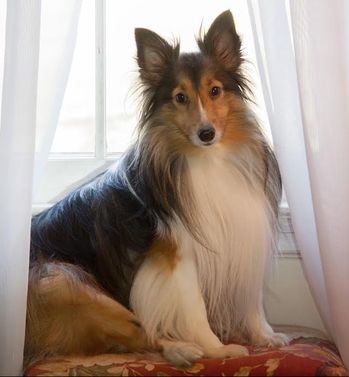 Chayah ("Ky-ah")

Adorable little Chayah is finally ready to look for her forever home after six months in foster care. Chayah's foster mom describes this tiny Sheltie as "a little love bug." She is very attentive to her people and has a wonderful temperament. Due to her medical history, however, she needs a special adopter.

Chayah was turned into NVSR because her previous owner could not afford to have her health issues diagnosed and addressed. We placed her with a foster mom who is a vet tech to ensure Chayah would receive the best medical attention. X-rays revealed an enormous bladder stone, and surgery was done to remove the stone. Her long undiagnosed urinary tract problems left the little dog partially incontinent for a long period following her surgery. Consultations with specialists resulted in a plan to restore bladder health. Considerable experimentation was needed before a successful strategy was developed to address her incontinence.
Finally, after many months of treatment, little Chayah is on a daily medication that restores urinary control. She now urinates on a predictable schedule and no longer has any leakage issues. The expectation is that this medication will eventually be unnecessary. But in the near future, Chayah needs careful attention to ensure that any urinary tract infection receives immediate veterinary treatment.

The ideal home for this tiny Sheltie includes a very loving human who is home most of the time to give her the attention she craves. Active young children make her a little nervous, perhaps because she fears being stepped on. She gets along well with cats and other dogs but would probably prefer to be the only dog enjoying all the attention. She does best with frequent leash walks and does not really need a fenced yard if she is walked several times a day. Most of all, Chayah needs plenty of cuddling and human interaction.

Chayah is ... 11 inches tall, weighs 16 pounds and just turned 8 years old. Her adoption fee is $250.
---
---
Pepper ​

Beautiful Pepper is a tall, slender girl who loves people and enjoys being the center of attention. She walks well on a leash, but even more she loves running in a big fenced yard off leash. Chasing tennis balls is one of her favorite activities and, along with brisk walks, is a good way to give her daily exercise.

Pepper has excellent house manners. She is reliably house trained and does not destroy anything when given free roam inside. Even though she loves active play outside, she is calm and well-behaved when in the house. Pepper is a little shy with strangers, but with her own humans, Pepper is very affectionate.

Because this pretty girl is a very social, people-oriented dog, she would not be happy in a home where she is left alone for long hours every day. She needs humans around. Pepper gets along with the eight Shelties in her foster home and enjoys running with them in their huge fenced yard. But these dogs are not substitutes for attention from humans.Pepper has had a thorough veterinary checkup and appropriate tests since she came into NVSR. She is up to date on all vaccinations and was spayed years ago. Her vet pronounced her to be in exceptionally good health.​Pepper is now ready to look for her forever home. A good-sized fenced yard is essential for Pepper. She prefers older kids who know how to interact calmly with dogs. She will be happiest in a home where someone is around much of the time and willing to play with her. She would be fine with another dog, but she could probably be quite content as the only dog where she could enjoy all the attention.
This lovely dog came into rescue only because her family is being posted overseas and can't take her along. We promised to find her the wonderful new home she deserves. ​​Here is a short video to show how lively Pepper is. Pepper is ... 19 inches tall, weighs 35 pounds, and is 8 years old. Her adoption fee is $250.
---
New Arrivals & Shelties "on hold" - The following dogs are not yet ready for placement.
If you ask about these dogs, please be aware that we are not considering adopters for them and may not yet know very much about them.
---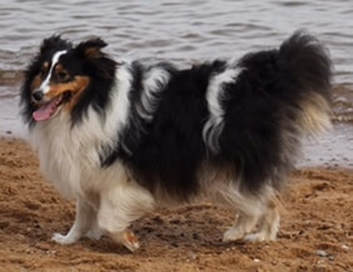 Thor

The charming, gentle Thor is somewhat misnamed--no hammer-wielding god of thunder here. This handsome boy will make some lucky family a great companion. But first we have an orthopedic consultation scheduled for him to see what can be done to alleviate some pain in one hip. We don't yet know if he will need surgery. We'll provide updates on Thor when we know more.

Thor is ... 3 years old, weighs 31 pounds, and is 18" tall.
---
---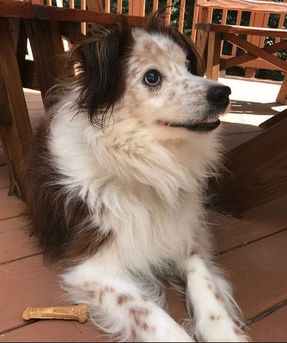 ​Reggie

Reggie has just arrived at NVSR from a family who is moving and sadly cannot keep him with them. Although he's blind, he has already figured out the furniture arrangement in his foster home. He loves children and is a very friendly, mellow boy. We will get to know him better as he settles in and learns his new yard and walking paths. We think he's mostly Sheltie with something else mixed in - a handsome boy.

Reggie is ... 8 years old, 19" tall, and weighs 35 pounds.
---
---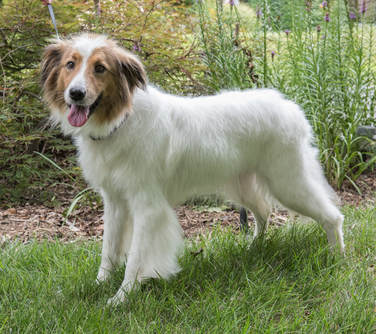 Leia

Love to hike? Go on long walks? "Princess" Leia is a young Sheltie-Brittany spaniel mix. She is a real sweetheart who just loves her squeaky toys. Even better than squeaky toys would be a nice fat squirrel to chase. Leia is amazingly athletic and can walk on her hind legs and twirl around. She might make a wonderful agility dog. She has become very good at walking on a leash and loves long walks around the neighborhood. She is never reactive to anything she sees on her walks but will try to go after any squirrel dumb enough to get close. Leia is on hold because she was in heat when she came into NVSR. She will be spayed at the end of September and should be available in mid-October.

Leia is ... 2 years old, 21" tall, and weighs 39 pounds.
---
---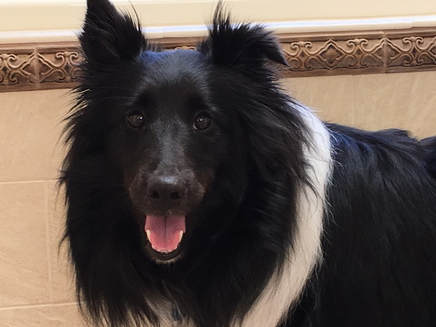 Brandy

Brandy is a beautiful little bi-black with some challenging behavioral problems we need to address. She has spent her young life with one owner who was unable to give her much socialization. She tends to bond quickly with one human but exhibits fear aggression toward anyone else who comes into the house. She has learned that growling fiercely makes scary things go away. Brandy has no experience with other dogs or cats, but the young Sheltie in her foster home is modeling appropriate behavior. Brandy has no medical problems, but she will not be available until her foster parents have found ways to help her cope with the many things that trigger her fearful behavior.

Brandy is ...14 inches tall, weighs 30 pounds, and is 2 years old.
---
---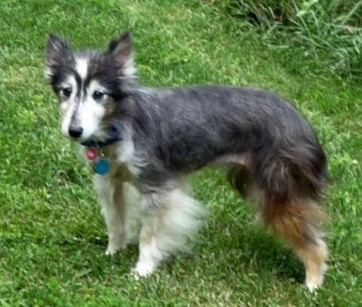 Fluffy
Yes, this little waif is mis-named, but we have hope that before too long she'll live up to her name. Fluffy came to us as a stray from a shelter, and she has a lot of medical issues we will work on right away. She has almost no coat due to low thyroid, as well as a yeast infection, arthritis, long toenails, infected ears, and a very sore mouth with teeth in need of care. She's in good hands with us, and we'll tackle her medical needs with the help of our vet team. Fluffy has a sweet temperament, just wanting comfort and love.
Update
: Fluffy is emerging as a playful, though not too energetic, little love. She's on thyroid supplement and pain meds, so she feels better and her foster mom can clean out her ears now. The yeast infection is diminishing after several medicated baths.
Here's a funny video of her figuring out a kibble puzzle.
Update
: Fluffy is getting fluffier! Check out this photo. Her thyroid supplementation is beginning to pay off. She doesn't really enjoy being on grass - would much rather be indoors with people.
​
Fluffy is ... 12-13 years old, 13 inches tall, and weighs 13 pounds.
---
---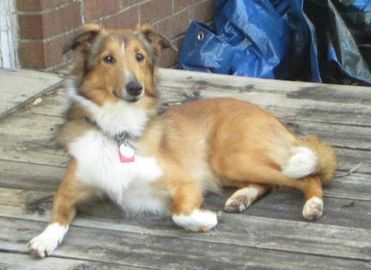 ​Archie

This little fellow came to NVSR via a sister Sheltie rescue. Archie needed a calm environment where he could relax and develop some confidence after having lived in a car with several other Shelties and his owner all his young life. He's thin, and his loving foster family will put some weight on him and help him learn to trust. He needs all the basics: housetraining, crate training, walking on a leash, etc. He's already on his way, and he's finding living in a house with a yard is a real treat.

Archie is ... 2 years old, 16 inches tall, and weighs 17 pounds.
---
---