Before you get too excited about one of our Shelties, please read
ALL
the information on our page
How to Adopt.
It will answer your questions about our process and expectations.
E-mail additional questions.
---
Shelties Ready for New Homes

---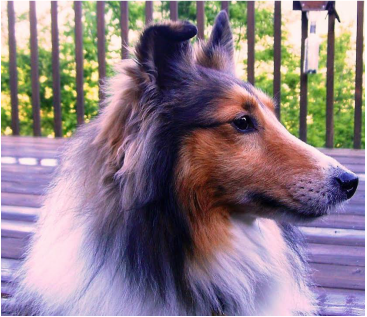 Duncan

We are devastated to report that, during last Thursday's severe thunderstorm, Duncan escaped from his foster home, terrified by the thunder and lightning, and was hit and killed by a vehicle. This wonderful boy lived his first three years on a goat farm, where he lived outdoors and was neglected and expected to herd goats, having had no training. After coming to NVSR, he went to a happy home for several years, and came back to us when children arrived in the family, and he was very anxious with them. He was in foster with us for several months before this tragedy. Duncan had always been extremely afraid of thunder and loud noises, and this storm was especially long and severe.

Duncan had a happy, loving foster home while he was awaiting his forever home. We will always miss this handsome boy.

Rest peacefully, Duncan, where there is nothing to be afraid of.
---
---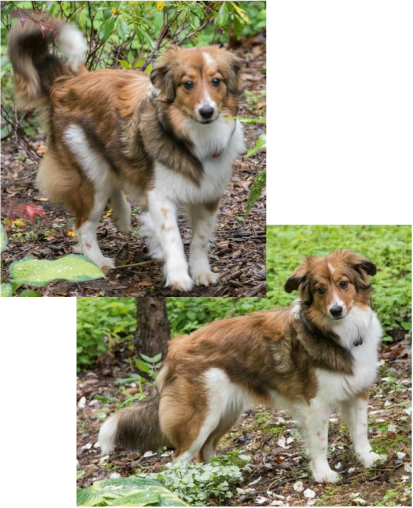 Mia
Cute little Mia is a very sweet and affectionate puppy that loves petting and hanging out with her humans. Her favorite activities are following her foster mom around and chasing a ball in the fenced yard. She will often play with the ball by herself, tossing it up in the air and throwing it down a hill so she can chase after it.
Watch Mia play with a ball in this video.
Mia is housetrained and never has accidents in the house. She will bark to signal when she needs to go out. She is a great car traveler and never gets carsick. She also enjoys walks on leash. But right now, Mia tends to be reactive to other dogs, perhaps due to scary experiences she had with them when in the shelter. Her foster mom has hired a trainer to help with counter-conditioning and desensitization so that Mia can learn to be comfortable with other dogs. Mia does not express the same fear toward strange humans, but she does tend to be shy until she gets to know new people. She is definitely a very people-oriented pup, however. She charms her vets and the vet techs who work with them.
We had Mia given a thorough vet exam and discovered that she has a mild condition that affects her balance and coordination a bit. Our vet made clear that the condition does not stop Mia from running around the yard, chasing squirrels, or playing. To be on the safe side, we had a neurologist examine her. She, too, confirmed that the condition will not get worse and that Mia can live a long and happy life. No treatment is needed, but Mia should not be permitted to go up long flights of stairs because she could lose her balance and fall. Similarly, she should not be allowed to jump off beds or other furniture. She seems very aware of her balance problem and doesn't try to do things that challenge it.
The vet also diagnosed a mild case of "floating kneecaps." He suggested supplements like glucosamine chondritin and salmon oil and stressed that moderate exercise will strengthen the muscles around the knee (like walking up and down hills). Mia is otherwise very healthy and has been spayed and brought up to date on all tests and vaccinations.
This very appealing youngster is now ready to look for her forever home. Because of her need to run and play off leash to keep her legs strong, she must have a fenced yard. We feel she would do best as the only dog until she responds to training to reduce her reactivity toward other dogs. A basic obedience course would give her confidence and improve her dog-dog socialization. Because of her love of people, she would be happiest in a home where someone is around much of the time although she has not shown any signs of separation anxiety. For humans who have no interest in agility or other dog sports and just want a very loyal, lively, and loving companion, Mia is a good choice.
​
Mia is ... 18 inches tall, 25 pounds, and 1 year old. Her adoption fee is $350.
---
---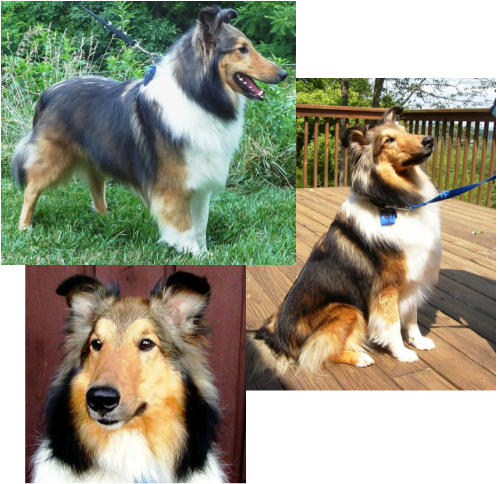 ​Montana
A tall, strong, muscular pup, Montana would make a wonderful agility dog or a running or hiking companion. He is very smart, learns quickly, and pays attention well. He also has a happy, cheerful temperament that makes him fun to be around.

Montana has never had a formal obedience course, but he does know a few basic commands and tricks and is highly trainable. He is reliably housetrained and is very friendly and confident, making eye contact with his caregivers and with visitors. While he does tend to guard his property and will bark when strangers approach his house, he can be easily redirected. He is still a puppy in some ways, enjoying all kinds of toys. (Warning: he is especially fond of squeaky toys, the louder the better.) Montana does not chew inappropriate objects like rugs or furniture, but he will grab attractive food items or toys off the counter if left within reach.

While Montana is an active adolescent that loves to run and play with other dogs, he is also an affectionate dog that bonds quickly with his caregivers and loves to cuddle. He is a strikingly handsome boy with a short but dense coat that makes him easy to groom. Montana needs some work on leash walking since he tends to pull when he sees interesting humans or other dogs during his walks.

Montana has been neutered and brought up to date with all tests and vaccinations. His ready smile shows his gorgeous white teeth. His forever home must have a large fenced yard where Montana can run full out. Ideally, that home would also have an active canine playmate that would play chase with him. He loves to play fetch, so that is another good way to exercise him. This youngster loves to be near his humans, so he would not thrive in a home where he is alone all day. Sorry, cat lovers: Montana cannot live peacefully with cats, or with chickens, birds, etc. A good obedience course would give Montana the skills and commands he needs to keep him happy and safe. He will repay the time invested in his training many times over and become a dog anyone would be proud to have.

​Montana is ... 21.5 inches tall, 38 pounds, and 2 years old. His adoption fee is $350.
---
---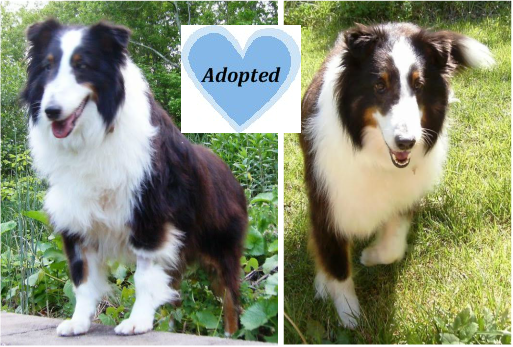 Oreo -- ADOPTED!!
Big handsome Oreo is a very easy keeper. This guy is as mellow as they come. He is friendly with humans of all shapes and sizes, including children. Unlike many Shelties, Oreo is particularly fond of men. He displays superb behavior on leash, walking at heel most of the time. He gets along well with other dogs and enjoys playing with both the young female and the middle-aged male Shelties in his foster home. There are no cats in his foster home, but we speculate that he would probably ignore them.

Oreo has excellent house manners. He is reliably housetrained and his foster mom says he has a "bladder of steel," able when necessary, to go without a potty break for long periods. While Oreo loves to go for leash walks and play with his canine friends, his very favorite activity is lying very close to a favorite human. He is definitely a "Velcro" dog, and does not like being closed away in another room if he knows his humans are home.

Oreo's only problem is a sensitivity to certain sounds. Thunder, gunshots, and low flying naval jets are common at his foster home in southwest Virginia, and all these sounds send him hurrying to jump into bed with his foster parents, demanding to be held tightly.

Oreo has been given a thorough vet exam, complete with blood tests and fecal screening. He was also brought up to date on all vaccinations. Oreo was found to be very healthy except for a large benign lipoma on his left hindquarters. We funded surgery to remove the lipoma for cosmetic reasons, even though it was not a health risk. His beautiful coat is growing back nicely over the surgical site. He also had a professional dental cleaning, so he has a sparkling white smile.

Because he was overweight when he came to NVSR, his foster mom put Oreo on a strict diet and exercise regimen and he's lost many pounds. His adopter will need to keep him on that regimen until he loses a few more pounds and regains his youthful figure. But his height and sturdy bone structure suggest that a weight in the low to mid 40's will be just right for him. Oreo has recovered from his surgery and is looking for his forever home. This friendly, laid-back dog could fit easily into many different households.

Oreo is ... 19.5 inches tall, 48 pounds, and 10 years old. His adoption fee is $100.
---
---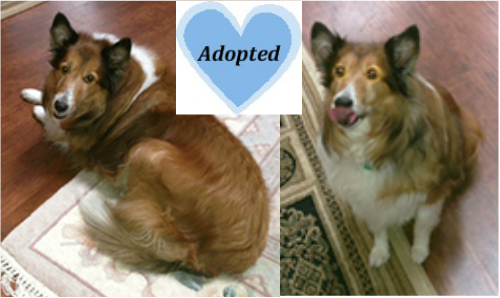 Jenny -- ADOPTED!!
Courtesy posting (see below) ...
Watch the video (link below) and picture pretty Jenny out for a walk with you. Jenny loves people and craves affection. She's looking for a home where she can be the center of attention and best buddy with her human companions. Jenny walks well on a leash; with her slight arthritis she can do two daily half-mile walks.
Jenny is reliably housetrained, but she is curious and should be confined in a crate or gated room when alone. Otherwise, when she gets bored, she may get into things that weren't meant for her. Luckily, she is very fond of her crate and doesn't mind spending time there. She is a good car traveler and used to riding in her crate.
Up to date on all vaccinations and tests, Jenny has had recent bloodwork, a thyroid test, and a professional dental cleaning. Her vet pronounced her to be in good health except for some extra pounds she still carries. Her foster mom has her on a strict diet and exercise regime, and she has slimmed down considerably. But her adopter will need to continue this regimen until she sheds more pounds.
The right home for Jenny includes loving humans prepared to lavish lots of attention on her. She needs to be the only pet because she pushes other dogs out of the way in her desire to get any affection that's passed out. She is a very people-oriented dog and has no interest in playing with other dogs. Jenny wants to play only with people.
Jenny is ... 17 inches tall, weighs 39 pounds, and is 10 years old.
Here's a great video of Jenny in her foster home.
This is a courtesy posting to help the New Jersey Sheltie rescue group get the word out about this wonderful Sheltie. If you're interested in Jenny, contact Shetland Sheepdog Placement Services of New Jersey (
njsheltierescue.org
). There is more information about Jenny on their site. She's a great dog and deserves a new home.
---
---
New Arrivals & Shelties "on hold" - The following dogs are not yet ready for placement.
If you ask about these dogs, please be aware that we are not considering adopters for them and may not yet know very much about them.
---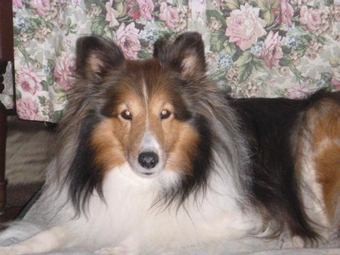 Skippy
Don't let Skippy's "book age" fool you! He's a lively, agile, handsome fellow with a beautiful face and coat. He came to us from a loving owner who is moving and can't take him along. He's practicing walking on a leash, and he's doing very well with that new skill. Skippy gets along well with the dogs and cats in his foster home. He needs some extra vet work as a result of his age; we're taking care of that, and he'll be looking for a new home before too long. Some lucky adopter will get a handsome, loving Sheltie.

Skippy is ... 17 inches tall, 38 pounds (needs to lose some), and 12 years young.
---
---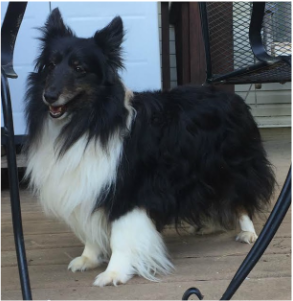 Molly
This little darling was left at a shelter by owners who are moving and cannot take her along. We hurried to get her out of the shelter and to her foster home, where she has charmed everyone, including the two resident Shelties. She's a sweetie who loves people and easily wraps them around her little paw. Molly has just had surgery to remove a growth on her neck and another in her mammary tissue. These growths were found to be benign. She was also spayed. Molly is due a few more weeks of recovery time, as well as a professional dental cleaning coming up.

Molly is ... 12.5 inches tall, 17.5 pounds, and 8 years old.
---
---