Before you get too excited about one of our Shelties, please read
ALL
the information on our page
How to Adopt.
It will answer your questions about our process and expectations.
E-mail additional questions.
---
Shelties Ready for New Homes

---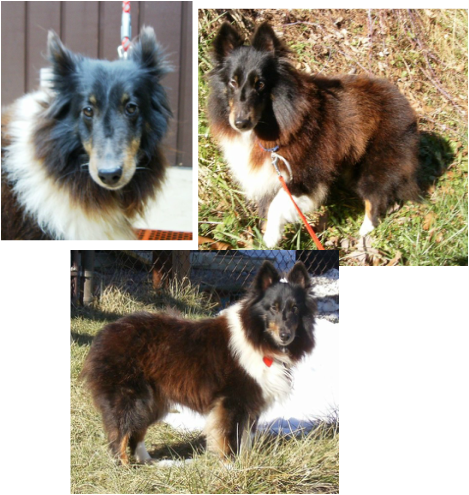 Candace

Candace (called "Candy" by her foster mom) is a very shy, reserved girl that likely enjoyed very little human attention in her early years. She is very cautious when exposed to new things and new places and requires lots of patient reassurance. Candy is a very gentle dog who refuses to assert herself, even when pestered mercilessly by the young pup in her foster home. She walks beautifully on a leash and never pulls, but she seems to prefer being indoors where she feels safe and the environment is familiar. While Candy often retreats when humans approach to pet her, she has learned to touch her foster mom's hand with her nose to ask for stroking. In fact, lying on the sofa with a familiar person to stroke her seems to be Candy's notion of the ideal life.

Because of her very distinctive coloring, Candy's foster mom says walking her is like strolling along with a mink coat. Known technically as "brindle," the rich browns and blacks are embedded in a very thick coat. Unless her adopter is very skilled in grooming double-coated dogs, Candy will need regular professional grooming. She is housetrained and crate-trained and has excellent house manners. She has learned to use the doggie door in her foster home. She doesn't exhibit separation anxiety and does not destroy anything when left in the home to roam freely. In short, Candy is a very easy keeper.

Since Candy was picked up by animal control as a stray, we know nothing of her history. But we speculate she may have been a breeder's dog that spent much of her young life in a kennel. We have had her spayed and brought up to date on all tests and vaccinations. We also funded a professional dental cleaning for her, so she now has shiny white teeth. Multiple baths and brushings by her foster mom have removed the embedded dirt and undercoat she brought with her and revealed a luxurious coat. She is still itchy from dry skin, but a good diet, a salmon oil supplement, and regular grooming should gradually restore her skin to good health.

Candy is now ready to look for her forever home. Since she is not a barker and prefers life indoors, she would be a good match for apartment or townhouse dwellers. She doesn't need a fenced yard as long as she gets regular walks. A quiet home without small children would be best for her. What she needs most is a gentle caregiver with plenty of patience who will introduce her slowly to the outside world. Once she bonds with her new humans and has been given plenty of time to feel comfortable in her new home, a basic obedience course would be a useful way to increase her socialization.

Candace is ... 16 inches tall, 23 pounds, and about 7 years old. Her adoption fee is $250.
---
---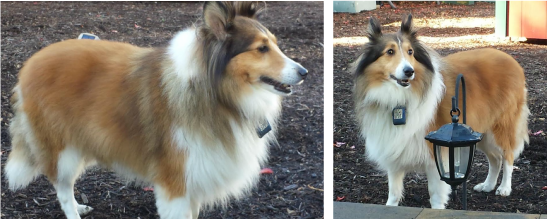 Penny

Pretty Penny is quite the girl! Her excess weight might make you think she's a couch potato. But in fact, this handsome sable is very energetic. She loves to meet new people, go new places, walk, play with toys, and do anything else that sounds like fun. She's also very willing to lie at your feet or under your desk while you read a book or work on your computer.

This people-oriented dog strongly prefers to be an only dog who gets all the attention. Penny would appreciate a fenced yard where she can poke around and watch the world go by, but she also needs daily vigorous walks. Since she is carrying extra weight now, energetic walking (not strolling) is definitely on her agenda. Playing with her is important, too, and she loves a wide variety of toys.

Penny is in the early stages of kidney disease, so she needs a special diet and regular blood and urine tests (about every 6-8 months) to monitor her condition. Keeping her on her diet, ensuring she is very active, and maintaining her at the right weight will greatly improve her prospects for a long life. She is not an inexpensive dog, as testing can cost $150 or more each round, and her special prescription food can be costly if purchased commercially. But if Penny is fed an appropriate home-prepared kidney diet, her caregiver could save money and provide a much higher quality diet that would greatly increase her life span. She is currently on a maintenance dosage of a blood pressure medicine that might become unnecessary if she loses her extra pounds.

Penny's health issues do not affect her energy, love of fun, and just being with her people. She's a very attractive girl with a gorgeous coat, and she loves the attention of getting brushed and fussed over. She has perfect house manners and knows several commands. She is up-to-date on all her vaccines, and her teeth are in beautiful shape. Penny just needs a home with humans who will give her the loving attention she craves and help her become the slim, physically fit dog she can be again.

Penny is ... 17 inches tall, weighs 36 pounds, and is 8 years old. Her adoption fee is $250.
---
---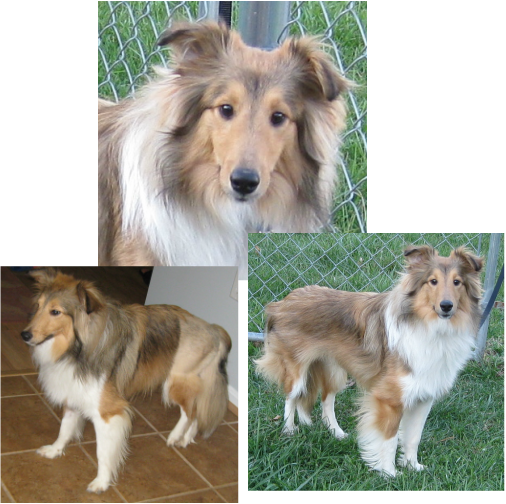 Max
In most ways, Max is a typical one year-old pup: busy, playful, and curious despite a physical limitation. He is learning to walk on four legs, something new for him. Max came to NVSR with a very painful hip. He walked on three legs, preferred to lie down most of the time, and the muscles in his left rear leg were very under-developed. NVSR funded hip surgery for him, which removed the pain-causing "ball" of his leg bone which had roughened the cartilage in the hip joint. Swimming therapy has reinforced natural four-legged movement and has helped him learn to use his surgical leg on land. Eight weeks post-surgery, he uses his leg about 30% of the time, and this is increasing steadily but slowly. This youngster now enjoys pain-free playing, running, chasing balls (his favorite toy), and he's a very happy boy.
Before coming to NVSR, Max spent most of every day in a crate, so he needs a home where someone is around most of the time for company and for play, of course. Max must have a fenced yard so he can run full out and a gentle playmate his size or smaller. Playtime shouldn't get too rough where Max might get knocked down. It may take a year or more for his surgical leg to develop the musculature needed for him to use it consistently. Max should continue his swim therapy twice a week for a few more months to strengthen that leg. Regular massage and stretching is very helpful.
He also must (!) be kept slim and trim.
Max is "hand shy" because in his former home he was lured to be put in his crate for the day. He needs to get used to humans before he will come to their hands reaching toward him. He is still frightened of people and places he doesn't know. Because of his long surgery recovery, he hasn't gone many places and met new people. This is something that his adopter will have to work on with him. If he's with another confident dog, he does much better. Older, dog-savvy children may be okay with Max, but small children are scary for him.
Max loves being outdoors. He's reliably housetrained and still a puppy, doing all the things he couldn't do before. So, he can be found up on the sofa or the bed, jumping up to get a treat, chewing on something, and chasing a ball at the head of the pack. He loves toys, especially that unique one in the bottom of the toy basket. Max is a really cute pup who needs gentle training and socialization. He will repay that many times over with his happy spirit.
Here is a video of Max in his third swim session. You can see his surgical leg (left rear) working as he swims. He has completed 10 swim sessions and has "graduated" to the big dog pool where he swims for a much longer period. Here is a video of Max in the backyard. You can see him using his left rear leg some of the time.
Max is ... 17 inches tall, 23 pounds, and 1 year old. His adoption fee is $350.
---
---
New Arrivals & Shelties "on hold" - The following dogs are not yet ready for placement.
If you ask about these dogs, please be aware that we are not considering adopters for them and may not yet know very much about them.

We have no new foster dogs right now.
---