Before you get too excited about one of our Shelties, please read
ALL
the information on our page
How to Adopt.
It will answer your questions about our process and expectations.
E-mail additional questions.
---
Shelties Ready for New Homes

---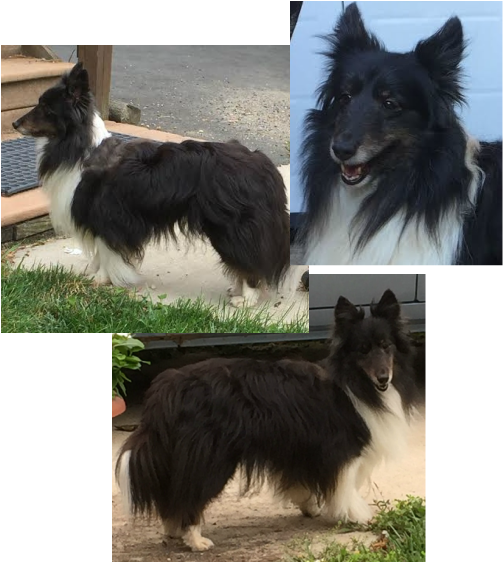 Molly
Molly is a sweet, affectionate, devoted little girl. She loves attention and greets everyone with a tail wag, a spin, a little bark, and an invitation to pet her. Molly has never met a stranger. She is a gentle little dog that just wants to be loved. She thinks there is nothing better than a good scratch behind the ears while she cuddles on your lap. Very food oriented, Molly will spin and bark excitedly for her food at each meal. But she knows not to beg at the table and will lie quietly under the table at your feet while you're eating. And she takes her treats ever so gently.
Molly loves to be pampered, talked to sweetly and doted on. She will sleep in the bed with you, snuggled up close to keep you warm, making sure she is always within reach of a hand to pet her. Molly is allowed on the furniture in her foster home, but if told to stay down, she will settle on a blanket or dog bed on the floor. When you get up to move around the house, Molly goes with you to see what you might do. She loves to spin in front of you and may be underfoot on steps, so she might be a tripping hazard.
This little tri is a good car rider and rides quietly in a crate or seatbelt harness. But she does NOT like to be crated in the house. Since she is reliably house trained and not destructive in any way, there is no need for a crate. When her foster family leaves home, Molly has the run of the house or is gated in the kitchen.
Molly enjoys being brushed and groomed. She is very cooperative when having her feet trimmed or her nails clipped. When her foster mom bathes her, she lies right down in the tub! She definitely does not care for the hair dryer, however, so she is just fluffed with a towel and allowed to air dry. Since she came to NVSR, Molly has been spayed and given all tests and vaccinations. She had a growth on the back of her neck when she came to us. The vet determined it was not cancerous but decided it needed to be removed. Molly is healed now and soon her pretty white ruff will be grown in again. NVSR funded a professional dental cleaning for Molly, so she has beautiful white teeth, as well.
This adorable little girl is now ready to look for her forever home. She loves people of all ages and sizes and gets along well with the other Shelties in her foster home. She could fit easily into many different homes. But because she is such a social dog, she prefers a home where she is not left alone for long hours. With her happy outgoing personality, Molly would make a perfect therapy dog, bringing pleasure to patients in hospitals and nursing homes. Here's a video of Molly in her foster home.
Molly is ... 13 inches tall, weighs 17 pounds, and is 8 years old. Her adoption fee is $250.
---
---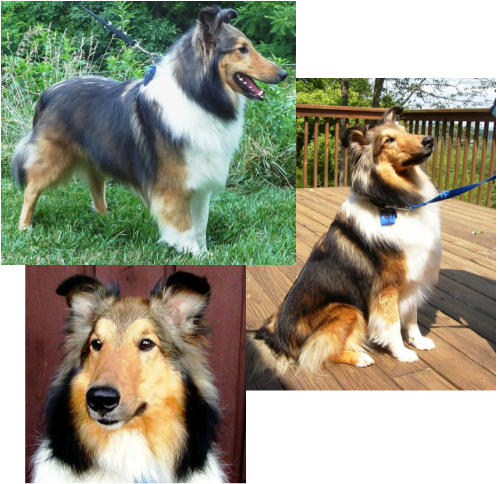 ​Montana
A tall, strong, muscular pup, Montana would make a wonderful agility dog or a running or hiking companion. He is very smart, learns quickly, and pays attention well. He also has a happy, cheerful temperament that makes him fun to be around.

Montana has never had a formal obedience course, but he does know a few basic commands and tricks and is highly trainable. He is reliably housetrained and is very friendly and confident, making eye contact with his caregivers and with visitors. While he does tend to guard his property and will bark when strangers approach his house, he can be easily redirected. He is still a puppy in some ways, enjoying all kinds of toys. (Warning: he is especially fond of squeaky toys, the louder the better.) Montana does not chew inappropriate objects like rugs or furniture, but he will grab attractive food items or toys off the counter if left within reach.

While Montana is an active adolescent that loves to run and play with other dogs, he is also an affectionate dog that bonds quickly with his caregivers and loves to cuddle. He is a strikingly handsome boy with a short but dense coat that makes him easy to groom. Montana needs some work on leash walking since he tends to pull when he sees interesting humans or other dogs during his walks.

Montana has been neutered and brought up to date with all tests and vaccinations. His ready smile shows his gorgeous white teeth. His forever home must have a large fenced yard where Montana can run full out. Ideally, that home would also have an active canine playmate that would play chase with him. He loves to play fetch, so that is another good way to exercise him. This youngster loves to be near his humans, so he would not thrive in a home where he is alone all day. Sorry, cat lovers: Montana cannot live peacefully with cats, or with chickens, birds, etc. A good obedience course would give Montana the skills and commands he needs to keep him happy and safe. He will repay the time invested in his training many times over and become a dog anyone would be proud to have.

​Montana is ... 21.5 inches tall, 38 pounds, and 2 years old. His adoption fee is $350.
---
---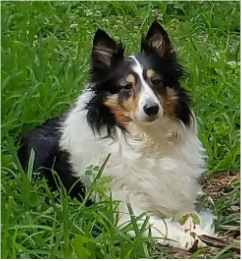 Shelby
Shelby is a lovely tricolor senior girl left at a shelter when her family moved to a place where they couldn't have a dog. She's a good leash walker, and since she needs to lose some weight, she'll enjoy those walks to explore her neighborhood. She also loves belly rubs. As an older girl, she is really good at lying in the yard in the sun and staying close to her foster mom and the other dogs in her foster home. This pretty girl will make a wonderful addition to a quiet home where she can relax.

Shelby is ... 13.5 inches tall, 24 pounds, and 14 years old. Her adoption fee is $100.
---
---
New Arrivals & Shelties "on hold" - The following dogs are not yet ready for placement.
If you ask about these dogs, please be aware that we are not considering adopters for them and may not yet know very much about them.
---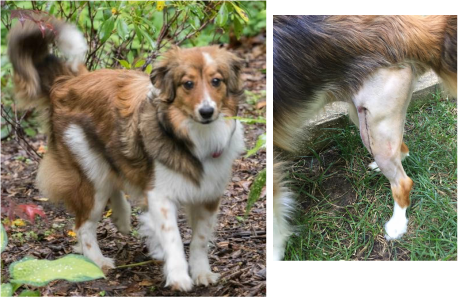 Mia -- Update!
When little Mia began to limp badly and show more pain when playing the ball games she loves, we had her re-evaluated. This time we took her to two specialists who did x-rays of her legs and hips and a scan of her brain. We were surprised to learn that the initial diagnosis by her vets was not correct. The brain scan showed a perfectly normal brain with no evidence of the neurological condition assumed to affect her balance and coordination. But her floating kneecap issues are more serious than we were previously told. In spite of the large expense, we just had surgery performed (7/20) on her left knee to give this youngster a good chance at normal walking and running. According to the surgeon, her right kneecap is stable enough, so only one surgery was required. Her recovery will take a few weeks, but she has no limitations on her movement already. She will be walked regularly to help that repaired knee walk normally. So, Mia is not available for adoption right now. We will provide updates on her progress, and we're hoping for the best. She's a sweetie!
​If you'd like to help defray our expenses for this deserving little girl, you can send us a check (see
Contact Us
page for our address) or use PayPal (see
Home
page). We thank you in advance for making life much better for a sweet dog.
​
Mia is ... 18 inches tall, 25 pounds, and 1 year old.
---
---